Introduction
Smartwatches have become increasingly popular in recent years, allowing users to access notifications, track health metrics, and more right from their wrist. The smartwatch market has seen tremendous growth, with companies like Apple, Samsung, and Fitbit leading the way. This report will provide an in-depth look at the latest statistics and trends in the smartwatch industry.
Editor's Choice
Smartwatch shipments increased 24% year-over-year in Q2 2022.
Apple remains the smartwatch market leader with a 36% market share in Q2 2022.
Samsung ranked second in smartwatch market share at 11% in Q2 2022.
Smartwatch's average selling price was $309 in Q2 2022, up 6% from last year.
Fitness tracking remains the most popular smartwatch feature used daily.
Cellular connectivity in smartwatches continues to grow, up 47% from last year.
Smartwatch adoption remains higher among younger consumers under 35 years old.
Increased demand for health monitoring features like ECG, and blood oxygen tracking in smartwatches.
Voice assistants in smartwatches saw strong growth, led by Alexa and Siri.
Smartwatch sales revenue hit $2.4 billion in Q2 2022, setting a new quarterly record.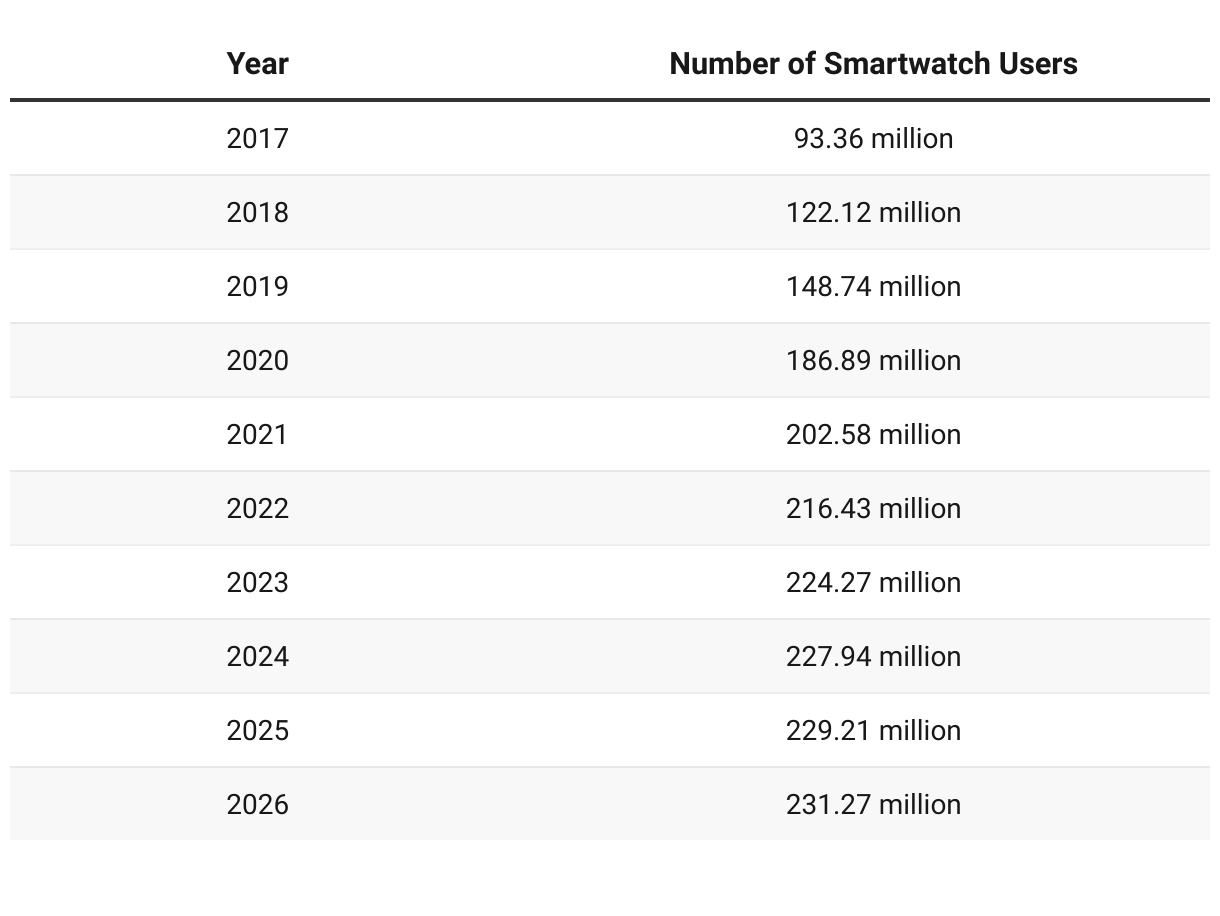 Market Overview
The global smartwatch market is expected to grow from $48.7 billion in 2022 to $62.6 billion by 2026, at a CAGR of 6.4%. North America accounted for the largest market share of about 39% in 2022.
Some key drivers of smartwatch market growth include:
Increasing health awareness and demand for fitness tracking
Rise in disposable incomes, especially in developing nations
Enhanced features like mobile payments, LTE connectivity, etc.
Wider availability of cellular-enabled smartwatches
Growing preference for smart wearable devices
Smart Watch Unit Sales
The total number of smartwatches shipped worldwide is forecast to grow from 216.43 million units in 2022 to 231.27 million units by 2026.
Apple Watch shipments accounted for 47% of the global smartwatch market in Q2 2022.
Samsung accounted for 10% of smartwatch shipments in Q2 2022.
Basic/hybrid smartwatches are expected to grow at a CAGR of 6% between 2022 and 2026.
Apple continues to lead the market with a share of 36% in 2022.
Samsung stands second with an 11% market share.
Huawei and Imoo make up the next biggest vendors with 7% and 3% market share respectively.
Other notable vendors include Garmin, Fitbit, Xiaomi, Fossil, and Amazfit with 27%.
Smart Watch Pricing Trends
The average selling price (ASP) for smartwatches is declining gradually. The ASP fell from $221 in 2019 to $204 in 2022.
This can be attributed to increased competition and the availability of more budget-friendly models.
By 2026, the ASP for smartwatches is expected to drop to $185.
Apple Watch ASP dropped from $505 in 2018 to $462 in 2022. Competition from lower-priced brands is affecting premium pricing.
Basic/hybrid smartwatch ASP is forecast to drop from $156 in 2022 to $130 by 2026.
Smart Watch Sales by Region
North America was the largest smartwatch market with sales of 84 million units in 2022. An increase in disposable incomes and high smartphone penetration are driving growth.
China is expected to overtake North America as the largest market by 2026 with sales reaching 63 million units.
The Asia Pacific market excluding China is forecast to grow at a CAGR of 8% between 2022-2026, making it the fastest growing region.
Key Smart Watch Features
Health and fitness tracking remains the most popular feature with over 80% of devices offering it. Heart rate monitoring and sleep tracking are the most used.
LTE connectivity is available in close to 44% of smartwatches now allowing users to stay connected without a smartphone.
NFC payments through smartwatches are supported on models from Apple, Samsung, Fossil, and others. The transaction value for payments made using smartwatches is expected to reach $182 billion by 2026.
GPS and location tracking is offered in around 61% of smartwatches. This allows for tracking runs, hikes, and other activities without needing to carry a smartphone.
Over half of the smartwatches launched in 2022 include support for third-party apps to enhance functionality.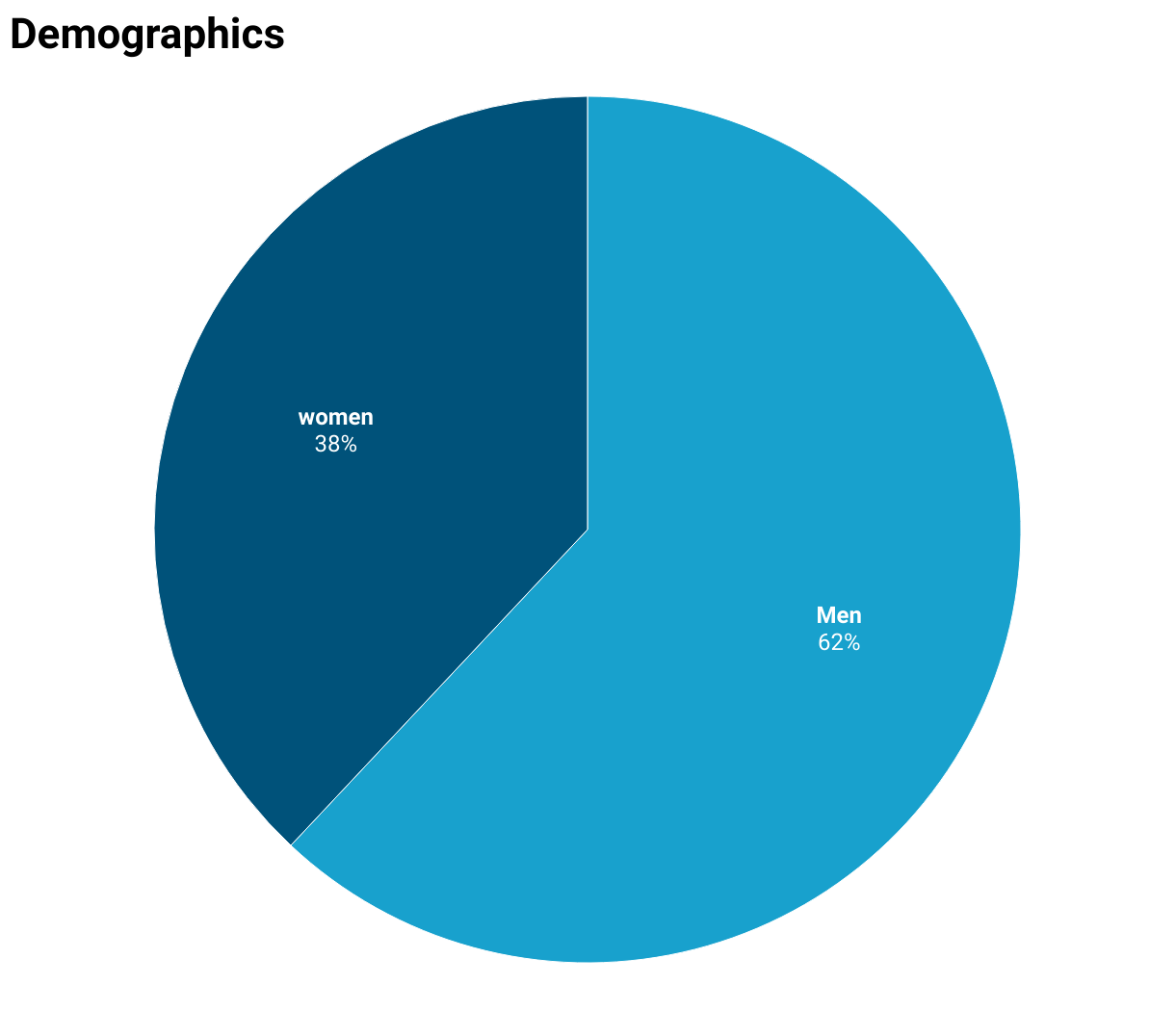 Smart Watch Demographic Trends
Gender
Men are marginally more likely to own a smartwatch compared to women.
Among smart watch owners, 62% are men while 38% are women.
Age Group
45% of smartwatch owners are between 18-34 years old.
29% of owners are between 35-44 years.
18% are 45-54 years old.
7% of owners are 55 years or above.
Income Level
58% of smartwatch owners have an annual household income over $100k.
37% have an income between $50k to $100k.
Only 5% have an income below $50k.
Higher disposable incomes allow consumers to purchase premium smartwatches and accessories.
Smart Watch Usage Statistics
78% of smart watch owners use it to track health and fitness metrics like steps, heart rate, and sleep. It highlights the importance of health-tracking features.
62% use their smartwatch to get app notifications from their smartphone. This allows users to stay on top of messages without grabbing their phone.
48% of users leverage their smartwatch to track daily activities like running, cycling, or walking. GPS tracking enables this usage.
44% use their smartwatch to control music playback on their smartphone or connected headphones.
35% use smart watch payments to purchase items instead of cash or cards. This usage is higher in markets like China where mobile payments are mainstream.
24% use timers, alarms, or calendar functions on their smartwatch.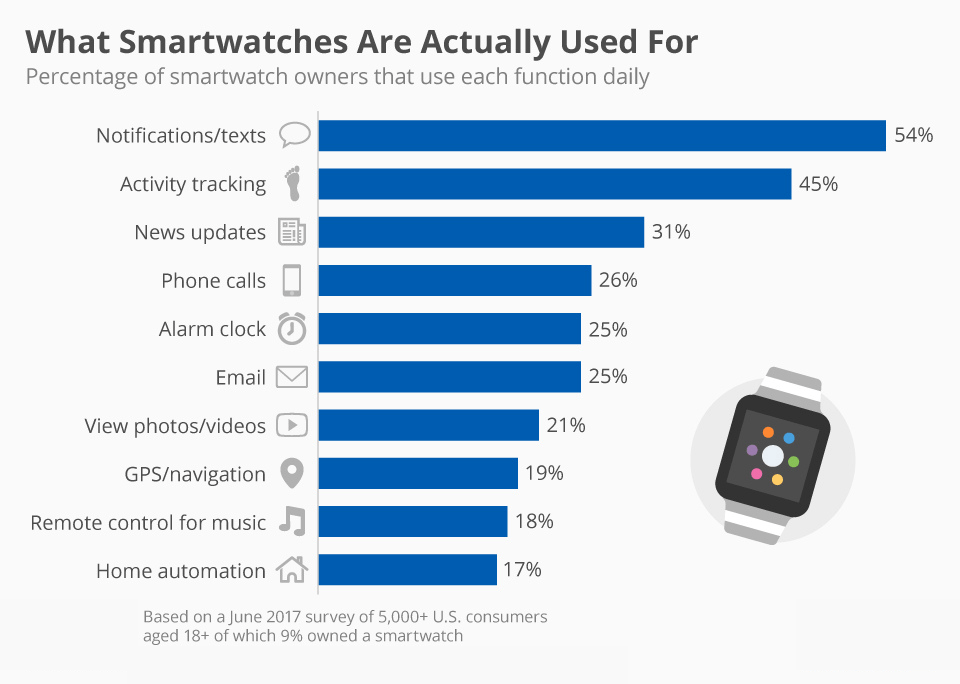 Smart Watch Industry Trends
Increasingly Advanced Health Tracking
ECG, blood pressure, and glucose monitoring are emerging as popular smartwatch features. These allow users to identify health irregularities early.
Sleep tracking is also becoming more advanced with features like sleep stages, blood oxygen levels, snore detection and sleep scores.
Future models are expected to incorporate sensors to analyze mental stress, hydration levels, alcohol levels, and more.
Expanding Cellular Connectivity
LTE-enabled Smartwatches that can make calls and access apps without being tethered to a smartphone are gaining traction. This enhances user experience.
Developing 5G connectivity for Smartwatches will further boost functionality and allow streaming, live translation and more.
Focus on Premium Design
Hardware and design improvements including slimmer bodies, round displays, and high-resolution AMOLED screens have led to better aesthetics and usability.
The use of premium materials like titanium, ceramic, and sapphire crystal for displays is rising particularly in high-end models.
Battery Life Improvements
While most Smartwatches still offer 1-2 days of battery life, new technologies are emerging to extend this.
Low-power display modes, more efficient processors, and larger batteries are helping boost battery life.
The emergence of solar charging capabilities is also on the horizon.
Smart Watch Statistics Frequently Asked Questions
The top 5 smartwatch brands by market share in 2022 are:
Apple (36%)
Samsung (11%)
Huawei (7%)
Imoo (3%)
Garmin (3%)
FAQs
How many Apple Watches have been sold so far?
Apple does not report unit sales figures anymore. However, analysts estimate over 150 million Apple Watches have been sold since its launch in 2015. In 2022, Apple Watch shipments hit 36.7 million units.
How many Smartwatches are sold each year globally?
The number of Smartwatches shipped worldwide has gone up from 136 million units in 2022 to a forecast of 249 million units by 2026. This represents a CAGR of 16%.
What is the most popular smartwatch operating system?
WatchOS by Apple is the most popular smartwatch operating system with a 30% market share currently. It is followed by Wear OS from Google at 14% and Samsung's Tizen OS at 13% market share.
Which country buys the most Smartwatches?
China is the country that buys the most Smartwatches. In 2022, China accounted for around 26% of global smartwatch shipments. After China, the USA is the second biggest smartwatch market.
What is the average price of a smartwatch?
The average selling price (ASP) for Smartwatches was $204 globally in 2022. However, prices vary widely based on brand, features, and model. Basic smartwatch models can cost below $100 while the ASP for premium models like the Apple Watch is over $400.
Conclusion
The smartwatch industry has seen impressive growth over the past years, driven by a growing interest in health tracking, better connectivity, and enhanced features. Apple continues to lead in terms of market share and sales. However, competitors like Samsung and emerging Chinese brands are also gaining ground. Key trends like advanced health sensors, LTE connectivity, better battery life, and premium designs are steering product innovation and consumer interest in Smartwatches. With Smartwatches increasingly becoming multifunctional accessories, the market has tremendous room for expansion worldwide.
---
ABOUT AUTHOR
Kundan Goyal possesses a wealth of experience in Digital Marketing, offering valuable insights to businesses of all sizes. He actively contributes to industry-specific PR, news outlets, and forums, shaping discussions and driving forward-thinking strategies. Outside of work, HE enjoys carrom and has a deep passion for news editing and research. His strength lies in helping companies make informed, strategic decisions and predicting future trends. With his dedication and innovative approach, he is a versatile professional who brings a unique blend of skills and expertise to the ever-evolving digital landscape, enabling businesses to thrive in this dynamic environment.