Smart homes (often called connected or automated homes) are residential spaces equipped with technology and devices that can be remotely or automatically controlled for convenience, security, energy efficiency and overall quality of life enhancement. Such devices include thermostats, lighting controls, locks and cameras which connect through central hubs or smartphone apps as well as voice assistants that make daily living more efficient and comfortable for residents. Smart homes give greater control and customization for residents as they manage various aspects of their environment using digital interfaces or automated routines – offering greater control and comfort at home for residents alike!
Smart Homes Market Size 
Global smart homes market showed significant growth in 2022, with a valuation of USD 113.5 billion. Projections suggest a substantial increase in the coming decade, with expectations to reach USD 503.1 billion between 2023 and 2032, marking a remarkable compound annual growth rate (CAGR) of 16.8%. This growth underscores the increasing adoption of smart home technologies as consumers seek to enhance their homes with automation, connectivity, and the benefits of modern living.
(source:Market.us)
Editor's Choice
There are an estimated 300 million connected homes globally and 5.26 million of these in the US alone.
Average U.S. household spending on smart home technology amounts to $1,172 annually – representing an impressive investment in automation and connectivity.
60% of those owning smart home technologies believe their devices make their lives better, noting the convenience and efficiency they bring into everyday living.
By 2023, it's estimated that 53.9% of households will feature some form of smart home automation technology – further demonstrating its rapid spread through households across America.
Experts forecast that by 2023, the global home automation market could reach $81.6 billion, showing its immense growth potential in this industry.
Climate change awareness plays a prominent role in smart home adoption; 59% of environmentally-minded Americans are willing to pay more for devices that contribute towards energy efficiency and sustainability.
Even amid concerns regarding data usage and privacy issues, 75% of individuals still favor smart home technology usage despite such concerns – reflecting their continued interest and trust for these devices.
Global smart home market projections suggest an estimated 478.2 million smart homes could be in operation by 2025.
Matter, an interoperability-promoting software technology for smart devices, has helped propel the growth of the smart home market by improving user experiences and expanding ecosystems of connected devices.
(source: Todayshomeowner)
Key Statistics 2022
1 out of every 4 adults regularly utilizes smart assistant devices like Google Home and Alexa, reflecting their increasing prevalence in our daily lives. This shows just how popular voice-activated smart assistants like these have become in modern culture.
Smart home technology has evolved past simple devices to include eco-friendly thermostats and remotely manageable appliances – giving more extensive automation opportunities in an eco-friendly manner.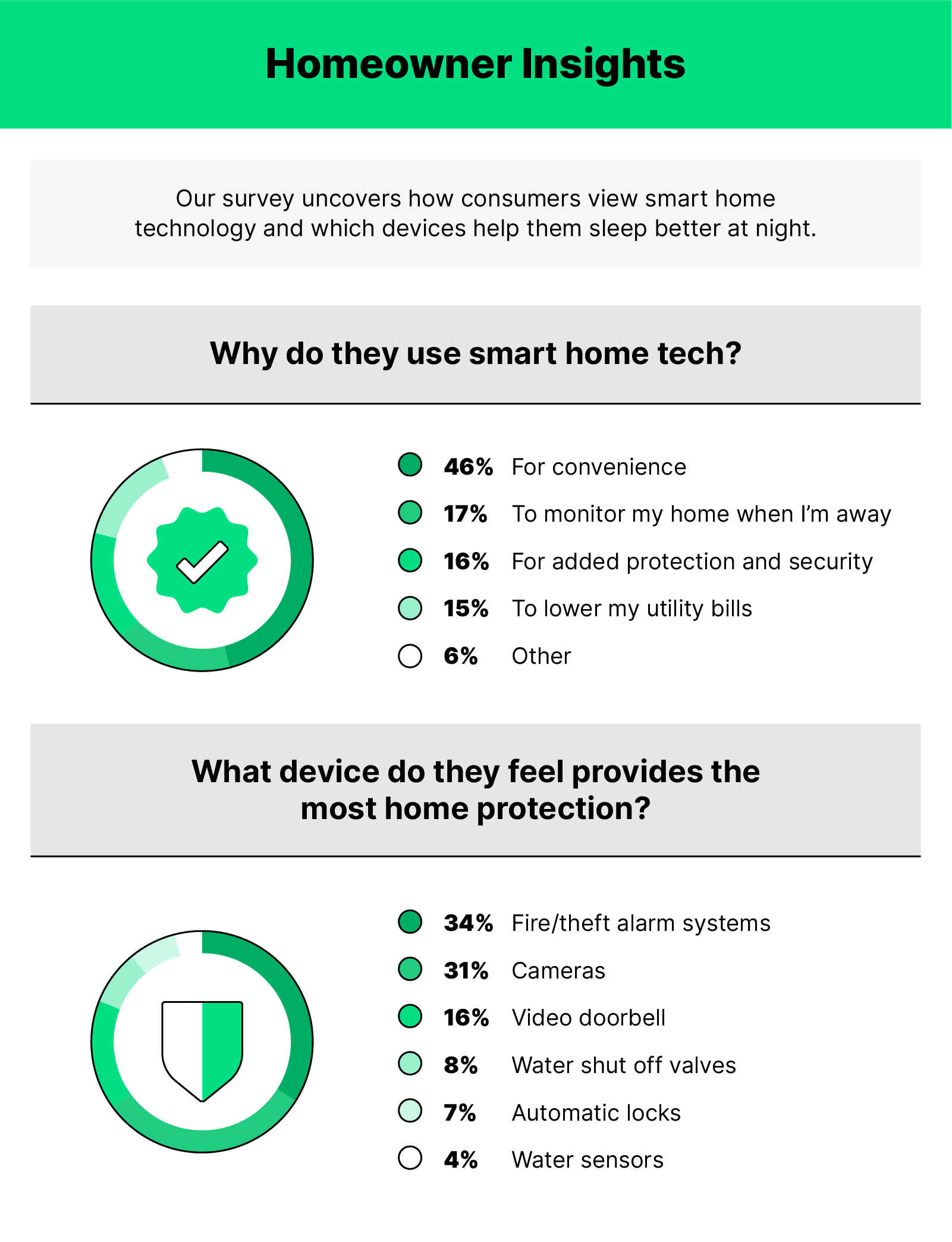 United States households have adopted at least one smart device and approximately 22 million homes have multiple smart home technologies installed – signalling widespread acceptance of smart home technologies.
Convenience remains the top motivation for using smart home devices, with 46% of users citing it as their main justification; reflecting an attempt to simplify daily life.
37% of individuals prefer fire and theft alarm systems as their number-one protective measure for peace of mind and personal security. This emphasizes their focus on keeping themselves and others safe.
Men are more likely to use smart technology devices for utility bill savings (17%) while women favor them for added security (19%), reflecting gender-based differences in priorities for such technology.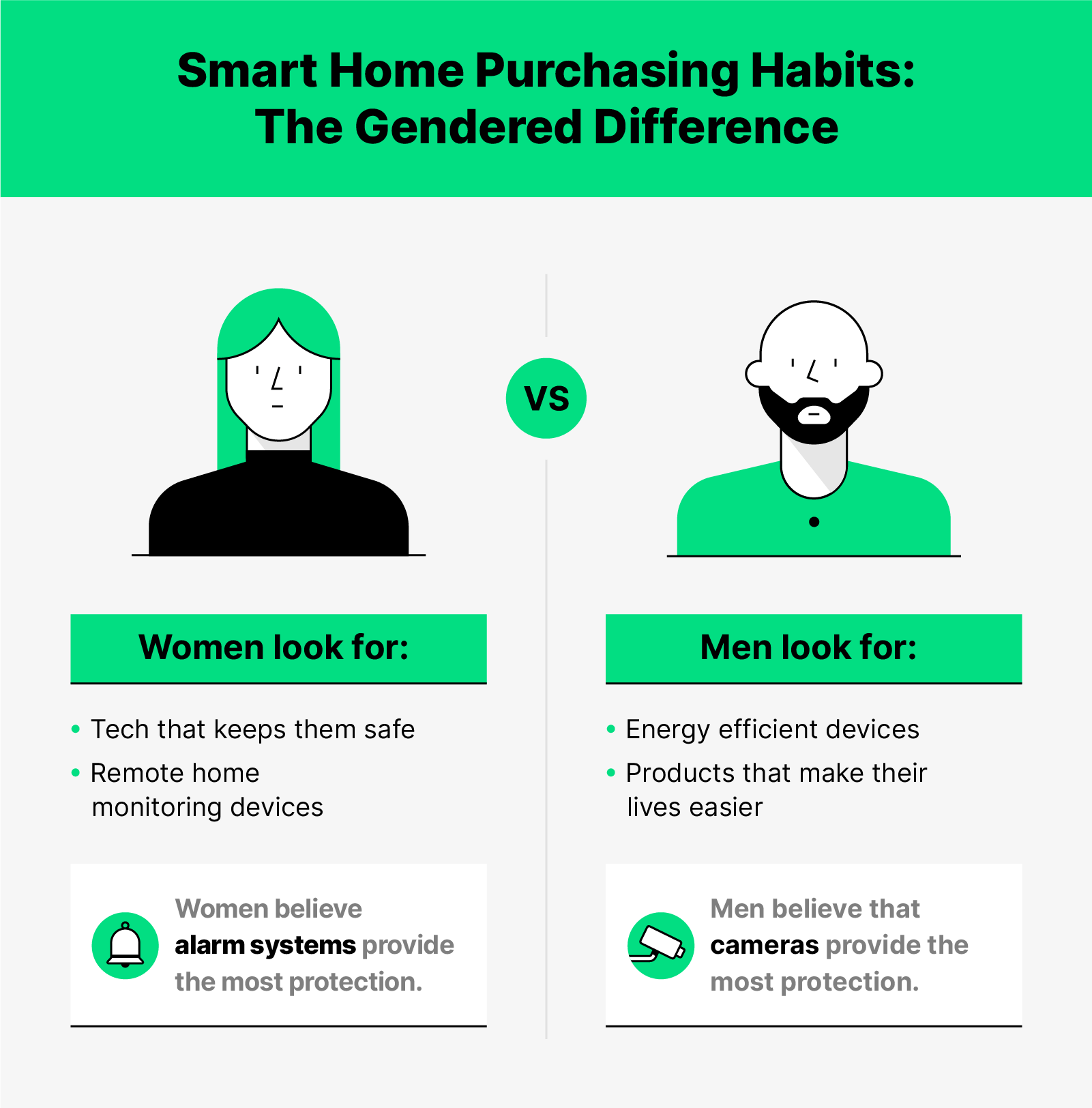 36% of individuals aged 35-54) believe cameras provide their homes with maximum protection, emphasizing its significance and importance.
14% of 25-34 age respondents listed automatic locks as the most reliable smart home device, suggesting an affinity towards access control systems.
Smart home products that have proven popular include video entertainment devices (smart TVs), followed by speakers and home monitoring products – each providing their own set of applications for smart technology.
By 2023, experts believe 15% of households worldwide will own smart home devices – evidence of its continued expansion.
Smart thermostat sales have seen tremendous expansion since 2018, increasing by an astounding 30% annually – reflecting their increasing importance as energy and climate-conscience solutions.
Samsung, Ericsson, General Electric, Schneider Electric SE and Honeywell International are some of the established players involved in this burgeoning sector of business.
46% of homeowners indicate a desire to integrate smart devices into their home for both convenience and protection reasons.
11% of consumers have adopted three or more home control devices already, showing they recognize and embrace all the potential offered by smart home technology for enhanced living experiences.
(source: hippo)
Smart Home Devices
The top smart home devices can generally be divided into five key areas:
Consumer Electronics (35%).
Smart Speakers (such as Amazon Echo or Google Home ) use voice assistants to control other connected smart devices as well as provide information.
Smart TVs and Entertainment Systems: TVs and entertainment components capable of connecting to the internet and communicating with other smart devices for streaming and content access are called smart televisions and entertainment systems.
Safety and Security Devices:
Smart Cameras and Doorbells: Cameras and video doorbells that offer surveillance can be remotely managed for maximum effectiveness.
Smart Locks:
Electronic locks that can be monitored via smartphone app for ease of control and monitoring.
Smart Smoke and Carbon Monoxide Detectors:
Alarms designed to inform both homeowners and authorities when there's an imminent fire or carbon monoxide leak, providing early warning systems against danger.
Climate Control:
Longevity Thermostats Adapt to Temperature Preferences by Offering Remote Management Options* Longer term savings are achieved using smart thermostats which adapt automatically according to individual temperature preferences, helping maximize energy usage efficiency.
Lighting Control:
Our Lighting Solutions include Smart Bulbs and Fixtures that can be controlled remotely, tailored for different scenarios, or integrated with other smart devices.
Smart Blinds and Shades:
Automated window coverings which can be controlled via smartphones or voice control are known as Smart Blinds/Shades.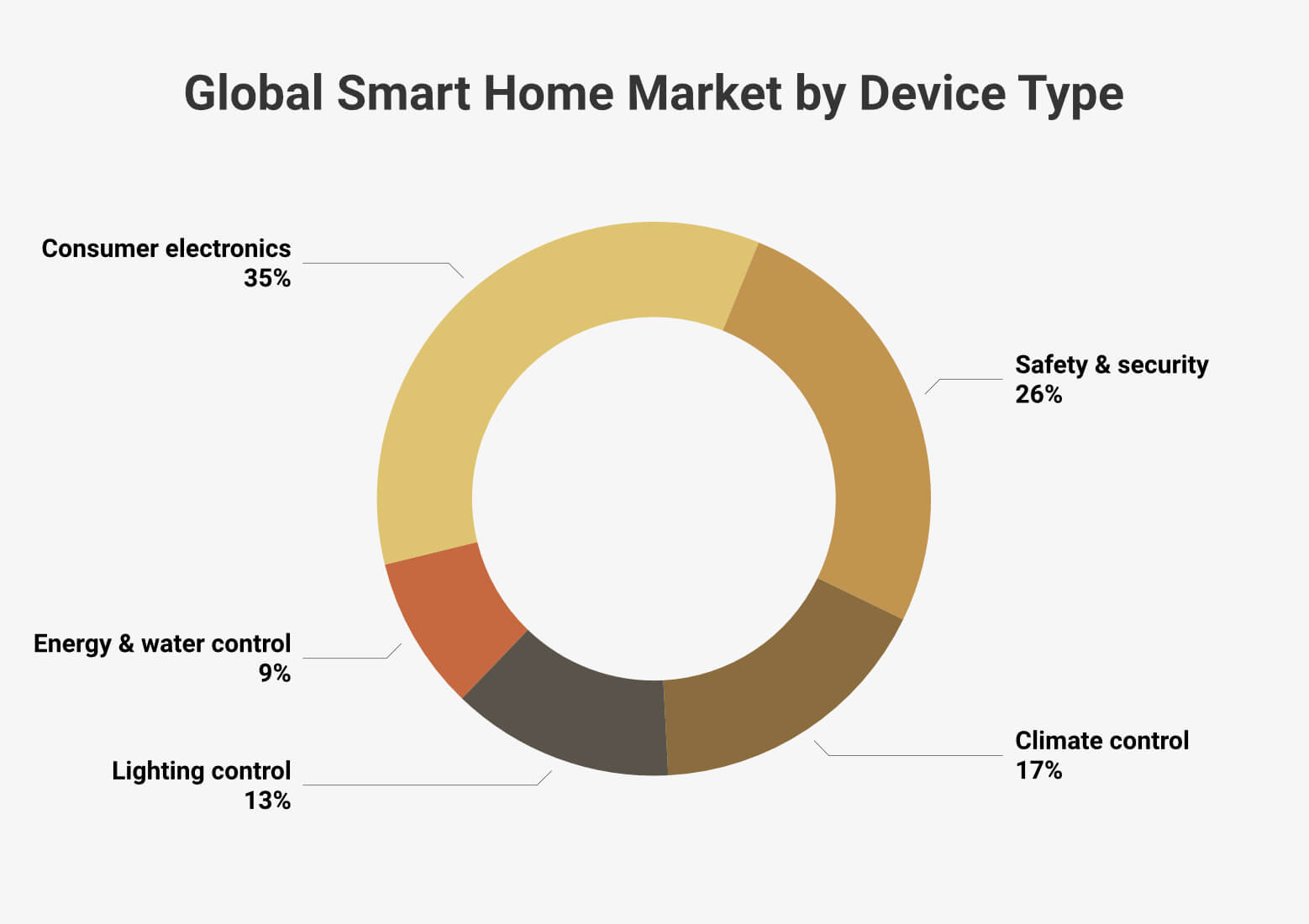 (Source: Rubyhome.)
Energy and Water Control Management Systems:
Smart Appliances: Home appliances like fridges, ovens and washing machines that can be controlled via smart technology are known as "smart appliances."
Smart Plugs: Plug-in devices designed to turn regular appliances and electronics into intelligent systems by offering remote control and automation features.
Intelligent Sensors: Sensors designed to monitor temperatures, humidity levels and motion to improve automation and energy efficiency are known as Smart Sensors.
Smart Sprinkler Systems: Lawn and garden irrigation systems that allow remote management allow efficient watering without wasteful overwatering.
Smart Home Demand
7 out of 10 homebuyers are actively searching for smart homes.
78% of homebuyers are willing to spend extra for an energy efficient smart home.
82% of renters want at least one smart home device in their living space.
35% of renters believe having smart home devices is important.
People like smart home devices because they save them money while making life more convenient.
(Source: Rubyhome)
Some Easy-To-Understand Statistics
2023 will see more than 63% of US households own at least one smart device (10% up from 2022).
Over 50% of Americans utilize voice search monthly.
Predicted 21% growth in smart speaker adoption between now and 2023.
57% of American believe smart devices save them an average of 30 minutes daily in time-saving.
Smart devices may reduce home insurance premiums by as much as 20%.
74% of Americans desire smart devices due to climate change awareness.
81% of homebuyers prefer homes equipped with smart tech features.
63% of homeowners desire smart security systems to enhance home protection.
75% of smart device owners are under 55; 40% belong to those aged 18-34.
97% of smart device owners are very satisfied with their devices.
63% of smart device owners express concerns over data protection.
(Source: Thesmallbusinessblog)
Recent Developments
Matter: In October 2022, Connectivity Standards Alliance (CSA) unveiled Matter as a smart home standard intended to facilitate compatibility among devices from different brands and support from Amazon, Apple, Google and Samsung among many others.
Google Nest: In January 2023, Google introduced the Nest Hub Max 2, an intelligent display with a larger display and improved camera, featuring Matter technology and one of the first smart home devices capable of supporting it.
Amazon Alexa: In February 2023, Amazon introduced an innovative feature for Alexa called Guard Plus. Guard Plus uses Alexa-enabled devices to listen for sounds of shattering glass or smoke alarms before alerting their user by phone call if something happened while away – including professional monitoring services which include following up if something does indeed go amiss when the user wasn't around to investigate further.
Samsung SmartThings: In March 2023, Samsung unveiled an updated SmartThings hub compatible with Matter. Additionally, this model is more energy-efficient and smaller.
Apple HomeKit: On April 20,2023, Apple unveiled support for Matter in iOS 16 and macOS 13 which makes controlling smart home devices from various brands simpler for Apple users.
Conclusion
Smart home technology is transforming modern households with automated, interconnected devices that offer convenience, security, efficiency, and an overall enhanced quality of life. The global smart homes market has seen tremendous growth, projected to reach over $500 billion by 2032. Adoption is accelerating as devices become more affordable, user-friendly, and compatible. Smart speakers, thermostats, lighting, appliances, security systems, and more are popular among consumers looking to customize, monitor, and control their homes remotely. While data privacy remains a concern, satisfaction is high as smart devices save time, energy, and provide peace of mind. With expanded capabilities on the horizon like integration with solar, electric vehicles, and voice assistants, smart homes are only getting smarter. The home automation revolution empowers people to live more comfortably, safely, sustainably, and gives them greater command of their living space. As technology progresses, smart homes will become mainstream and expected.
What are the key drivers of smart home adoption?

Consumers are attracted to smart home technology due to the convenience, security, energy efficiency, and overall enhancement to quality of life it provides. As devices get less expensive and more interconnected, adoption will continue to accelerate.
What are some of the most popular smart home devices right now?

Smart speakers, smart TVs, video doorbells, smart thermostats, smart locks, smart lights, and voice assistants like Amazon Alexa and Google Assistant are some of the most widely used smart home devices today.
How does smart home tech benefit homeowners and renters?

It provides greater control, automation, and customization over home systems. Users can remotely control devices, save energy, monitor their home, and create personalized scenes and schedules. It's convenient and offers peace of mind.
What recent developments are shaping the smart home marketplace?

The new Matter standard improves compatibility between devices and platforms. Major players like Google, Amazon, Apple, and Samsung are releasing products and updates to support Matter. This enhanced interoperability will make smart homes easier to set up and control.
What are some of the newest innovations in smart home tech?

Voice control, AI integration, 5G connectivity, edge computing, and biometric sensors are just some of the latest smart home innovations enhancing automation, security, and capabilities.
Which companies lead the smart home device market?

Top players include Amazon, Google, Apple, Samsung, Honeywell, Johnson Controls, Siemens, and more recognizable brands increasingly investing in smart home tech.
---
ABOUT AUTHOR
Kundan Goyal possesses a wealth of experience in Digital Marketing, offering valuable insights to businesses of all sizes. He actively contributes to industry-specific PR, news outlets, and forums, shaping discussions and driving forward-thinking strategies. Outside of work, HE enjoys carrom and has a deep passion for news editing and research. His strength lies in helping companies make informed, strategic decisions and predicting future trends. With his dedication and innovative approach, he is a versatile professional who brings a unique blend of skills and expertise to the ever-evolving digital landscape, enabling businesses to thrive in this dynamic environment.