Overview
Health And Wellness are core to life, representing an investment in our overall well-being that ensures we have energy to pursue our goals and enjoy every moment to the fullest extent. Wellness encompasses more than physical absence; it refers to mental, spiritual, physical, and emotional balance that contributes to wellbeing. Incorporating wellness practices such as healthy nutrition choices, regular physical activity, stress management techniques and restful sleeping is central to maintaining good health; finding balance through diet, fitness routines and adequate rest are crucial parts of living a fulfilling and vibrant existence; prioritising health is like investing in ourselves so as to have energy to pursue goals while enjoying every moment to its fullest extent possible!
Market Size 
Health and Wellness Market to Grow Remarkably, Expecting USD 4,333 Billion By 2023, against USD 8,379 Billon by 2032 This market's projected trajectory shows an astounding compound annual growth rate of 7% between 2022-2032; This robust expansion can be linked to global investments into personal wellness as more individuals commit themselves to leading healthier lifestyles, seeking products/services which support overall well-being as a top priority, shifting towards holistic approaches towards healthcare as self care becomes the goal for achieving lasting wellness for themselves and themselves. Its dynamic development mirrors this global shift towards holistic self care with every emerging trend taking shape over its trajectory between 2022-2032.
(Source : Market.us)
Editor's Choice
Food Choices: Health and wellness don't solely mean exercise – they also involve what we consume such as healthy meals, protein shakes and vitamins to maintain good health, especially as more individuals work from home.
Dietary Shifts: According to healthcare experts in the USA, 78% of individuals changed their diet after consulting them.
Popular Wellness Categories: Healthy food, weight management and beauty products account for roughly 60% of the wellness market.
Personalized Supplements: Gen Z and millennials alike often opt for personalized supplements as part of their wellness regimes.
Company Wellness Programs: Businesses investing in wellness programs may see returns of 1.5-3x their investments within 2-9 years.
Meditation and Mindfulness: According to estimates from 69% of companies, 69% have programs focused on mindfulness and meditation practices within their organization.
Fitness Wearables: In 2022, wearable fitness devices were estimated to represent an approximate $27 billion market.
Samsung Health was the top health app on Google Play worldwide in 2022, accounting for 66% of downloads worldwide.
Spa Industry in the USA: According to recent estimates, the spa industry in America is worth an impressive $47.5 billion.
(Source : enterpriseappstoday)
Industry Breakdown
Let's break down this industry into its different sectors:
Personal Care and Beauty: At $955 billion, this industry holds the largest market share.
Healthy Eating, Nutrition and Weight Loss: At $946 billion this sector ranks second.
Physical Activity Is Worth $738 Billion:
Wellness Tourism: Coming in close at $436 billion.
Traditional and Complementary Medicine are valued globally at an estimated total of $413 billion.
Public Health, Prevention, and Personalized Medicine: Worth an estimated total of $375 billion.
Wellness Real Estate: Market valuation estimated to exceed $275 billion.
Mental Wellness: Valued at over $131 billion.
Spas: This industry is estimated at being worth an estimated total of $68 billion.
Workplace Wellness: Worth $49 billion in total value.
Hot and Mineral Springs: This industry represents an estimated value of nearly $39 billion.
(Source : zippia)
Wellness Insights from Consumers
79% of individuals believe wellness to be essential in their lives.
42% of individuals worldwide place importance on wellness.
Americans invest their wellness funds largely in products and services related to health.
Recent trends indicate that nearly half of American are placing more importance on wellness.
Over the last two to three years, 48.2% of American have taken increased steps toward overall wellbeing.
A survey conducted in August 2020 discovered that 42% of respondents did not alter their focus on wellness at any point during that period; 10% however reduced it in some way.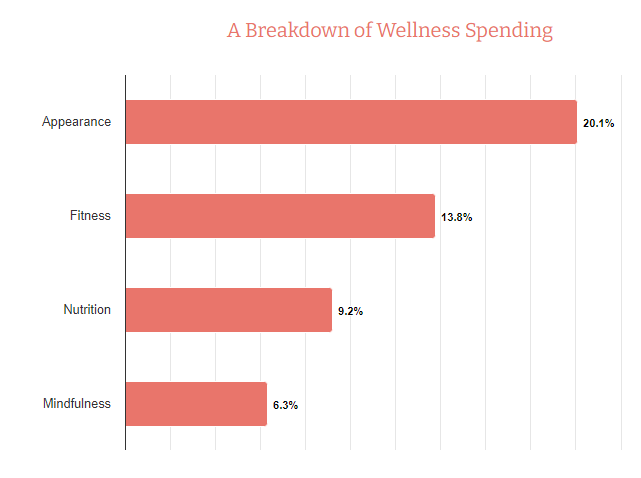 (Source : Marketsplash)
Key Factors
Aging populations drive demand for healthy aging products and services.
High healthcare costs prompt interest in preventative health solutions like fitness and nutrition.
Rising chronic disease rates boost demand for products supporting weight loss and wellbeing.
Consumers are focusing more on holistic wellness through diet, exercise, stress reduction.
Technology like wearables and apps makes wellness products/services more accessible.
Employer wellness programs bring services like fitness classes and health coaching to workers.
Mainstream retailers are allotting more space to health and wellness products.
Origin of Employee Wellness Program
Employee wellness programs have been around since 1979 when Johnson & Johnson introduced its Live for Life initiative.
These programs aim to improve employees' physical health, reduce healthcare costs and promote healthier behaviors among their staff members.
Impact of COVID-19
The pandemic caused by COVID-19 has spurred greater interest in wellness programs.
Discussions have included providing flexible remote work options for employees living with immunocompromise and investing in community health initiatives.
Benefits of Workplace Wellness Programs
Wellness programs play an essential part in recruiting and retaining talent.
These solutions address stress and burnout in employees, creating a happier, healthier workforce with decreased absenteeism and improved retention rates.
Corporate Wellness Research
Studies of corporate health and wellness programs are of great interest, with much research conducted into them.
Studies examine program design, costs and incentives designed to increase participation.
Quality programs are key for their success, and employers should actively remove participation barriers such as stigmatization or time restrictions that hinder participation.
Gaining Insight into Employee Wellbeing
Employee wellbeing has an indisputable bearing on productivity, work quality, collaboration, financial success and overall employee experience.
Proactive leadership is key for developing successful workplace wellness strategies.
Strategies such as flexible work arrangements, parental assistance programs, fitness options and health initiatives to lower healthcare costs while encouraging positive health behaviors may all play an integral part of overall strategy development.
Workplace Wellness and Burnout Statistics
Burnout-induced voluntary turnover costs organizations 15%-20% of their total payroll budget annually.
Low wellbeing costs businesses $322 billions globally each year in revenue loss and lost productivity when employee burnout occurs.
Wellness programs which prioritize recognition can significantly lower employee burnout while simultaneously increasing engagement and life satisfaction.
(Source : Workhuman)
Simplified Statistics
Here are simplified statistics regarding the health and wellness industry
Wellness industry is estimated at $4.5 trillion and expanding.
By 2023, it's projected that global physical activity revenues will top $1.1 trillion; Asia-Pacific region being at the forefront.
Health and wellness market revenue is expected to surpass $1.3 trillion between 2020-2024, showing steady annual increases.
By 2026, it's estimated that global digital health market will reach $220.94 billion and show significant expansion.
Wellness wearables are projected to reach $27 billion by 2022 as consumers use these devices to extend life span, maintain good health and lower health insurance costs.
Workplace wellness programs are projected to become an $66 billion market by 2022.
Sales of wearable devices are expected to double by 2025 and over one billion devices could be in use by then.
Global Wellness Market Is Estimated at $1.5 Trillion with steady annual Growth
Wellness tourism is projected to reach $1.2 trillion globally by 2027, with both China and America playing pivotal roles.
By 2025, total health and wellness market revenue is anticipated to hit $6,033,196 million with an expected compounded annual growth rate of 5.29%
Meditation app revenue is projected to hit $5,0008.93 million by 2021, representing significant expansion within this sector.
Wellness industries are rapidly growing as more individuals focus on their physical wellbeing and seek personalized experiences like AI/AR technology to achieve wellness. Businesses of all types are capitalizing on this rising market – startups gaining success as startups while celebrities promoting wellness brands provide ample opportunity for businesses.
(Source : Appinventiv)
Health and Wellness Trends for 2023
Virtual fitness.
Touchless spas offering relaxation pods, dry hydrotherapy massages and no-touch facials with an emphasis on breathing exercises are offered for virtual fitness training.
Promote healthy eating practices while encouraging regular sleeping patterns.
Utilize meditation apps.
Continue your participation in regular gym activities.
Promoting activities that foster self-care.
Travel and wellness sessions with family and friends.
(Source : enterpriseappstoday)
Brand Preferences of Exercise Equipment
As of August 2021, 32% of consumers owned Peloton exercise equipment.
31% of U.S. respondents preferred Mirror and 29% NordicTrack as the ideal choices for fitness trackers.
(Reference: Shopify)
Technology's Vital Role
Health and Wellness industry, worth an estimated $4.5 trillion, continues its flourishing with trends such as virtual fitness classes and touchless spa experiences. Technology such as health management apps and wearable devices play a vital role in supporting overall well-being; and its pandemic emphasis amplified wellness's importance even further, driving flexible work arrangements and community health initiatives into play. With focus on healthy eating and regular sleep cycles as part of holistic approaches towards well-being being adopted both individually and corporately by many businesses and individuals; its growth fuelled by recognition that well-being essential for leading fulfilling and vibrant lives!
Healthcare and Medical Apps
18% of US residents had used health management apps by 2021.a
Ping and Good Doctor, two leading Chinese healthcare apps, had more than 11.5 million monthly active users as of May 2017.
MySejahtera COVID tracking app saw an outstanding 92% open rate in 2021.
In January 2022, 16.91 million fitness apps had been downloaded worldwide.
Calm held 40% market share in the US market.
(Reference: Shopify)
Leading Health and Fitness Apps
As of September 2022, Samsung Health had received the highest number of downloads worldwide at 3.15 million.
Other popular health and fitness apps by download count include Huawei Health, Home Workout, Feelsy: Stress Anxiety Relief and more.
(Source : enterpriseappstoday)
Global Spa Market Projections for 2023
By 2023, it is projected that the spa market will have reached $64.4 billion.
Spa revenues in the USA are projected to hit $19.8 billion by 2023.
28% of American gym-goers utilize spa facilities at their fitness clubs regularly.
Medical spa industry growth has seen rapid expansion. Over half the 304,800 employed by US spa industries work part-time.
(Source : Wellnesscreatives)
Health and Wellness topics statistics
Obesity: According to recent surveys conducted in the US, over 40% of adults are obese.
Diabetes: Over 10% of adult Americans currently live with diabetes.
Heart Disease: Cardiovascular disease remains the number-one cause of mortality in America.
Mental Health: One in five adult Americans in the US experiences mental illness each year.
Sleep: Nearly one out of every three American adults do not get sufficient restful Sleep each night.
Age
Obesity Rates Increase with Aging: 44.4% of adults 65 or over who are obese have obesity rates above 44.4%
Diabetes: Diabetes rates continue to climb with age; 26.8% of adults age 65 or above currently live with this chronic illness.
Heart Disease: Heart disease rates increase with age; 27% of adults aged 65 years or over currently live with cardiovascular conditions.
Mental Health: Mental illness rates tend to be highest among young adults aged 18-25; however, its effects can have devastating results on people of any age group.
Sleep: Older adults are more prone to experiencing sleeping issues than their younger counterparts.
Sex
Obesity Rates Are Higher for Women (35.4% vs 35.1%)
Diabetes: Women have higher diabetes prevalence (12.1% vs 10.5%).
Heart Disease: Heart disease is one of the primary causes of mortality among both men and women, though women are more prone to dying from cardiovascular problems than their male counterparts.
Mental Health: Women have higher rates of depression and anxiety compared to men.
Sleep: Women are twice as likely as men to experience sleeping issues.
Impact of Wellness on Health and Well-Being
People who are healthy and fit tend to be more productive at work.
People who prioritize health are more likely to live longer and healthier lives.
Healthy individuals tend to be less at risk for chronic illnesses.
People who lead healthy and fulfilling lives tend to experience greater levels of happiness and fulfillment in life.
Overall, health and wellness are crucially important both individually and for society as a whole. By making healthy decisions that enhance quality of life and reduce their risk for chronic illnesses such as cardiovascular conditions or cancers, individuals can prolong their lives longer while becoming healthier in every way possible.
Recent Developments
In 2023: Google Health announces their partnership with Verily to develop wearable devices and software capable of detecting and monitoring chronic diseases.
In 2023: Apple introduces an upgraded Apple Watch that tracks blood oxygen levels and ECG readings for monitoring purposes.
In 2022: FDA approves first digital therapeutic for treating ADHD.
In Conclusion
Health and wellness businesses are experiencing extraordinary expansion. Diverse sectors contribute to its astonishing trillion-dollar market. A global shift towards holistic well-being, driven by the impact of COVID-19 pandemic, has highlighted the vitality of health as it spans physical, mental and emotional realms. Technology such as wearable devices and health management apps is playing an instrumental role in encouraging wellness; workplace wellness programs offer tremendous returns for companies as well. Looking ahead, the industry promises exciting prospects both individually and corporately alike; investing in health and wellbeing is investing in an enriching life experience.
What is the size of the health and wellness industry?

The health and wellness industry is estimated to be worth trillions of dollars, with various sectors such as personal care and beauty, healthy eating, fitness, wellness tourism, and more contributing to its overall value.
How has COVID-19 impacted the health and wellness industry?

The COVID-19 pandemic has accelerated the importance of wellness, leading to increased interest in health and well-being. It has also prompted discussions about flexible work arrangements and community health initiatives.
What are some popular health and fitness apps?

Popular health and fitness apps include Samsung Health, Huawei Health, MySejahtera (for COVID tracking), and meditation apps like Calm.
What are the key trends in the health and wellness industry for 2023?

Trends for 2023 include virtual fitness, touchless spa experiences, promoting healthy eating and regular sleep, and the use of meditation apps. Additionally, wellness wearables and technology are expected to continue to shape the industry.
How do workplace wellness programs benefit businesses?

Workplace wellness programs can help businesses recruit and retain talent, reduce stress and burnout among employees, decrease absenteeism, and improve overall employee well-being. They also contribute to a healthier and more productive workforce.
What are the main health and wellness statistics related to issues like obesity, diabetes, heart disease, mental health, and sleep?

These statistics highlight the prevalence of health issues in the population, emphasizing the importance of wellness practices. Obesity, diabetes, heart disease, mental health, and sleep all play critical roles in individual health and overall well-being.
What are the recent developments in the health and wellness industry?

Google Health's partnership with Verily to develop wearable devices for monitoring chronic diseases, Apple's upgraded Apple Watch with advanced health tracking features, and the FDA's approval of digital therapeutics for conditions like ADHD. These developments showcase the industry's ongoing innovation and technological advancements.
---
ABOUT AUTHOR
Kundan Goyal possesses a wealth of experience in Digital Marketing, offering valuable insights to businesses of all sizes. He actively contributes to industry-specific PR, news outlets, and forums, shaping discussions and driving forward-thinking strategies. Outside of work, HE enjoys carrom and has a deep passion for news editing and research. His strength lies in helping companies make informed, strategic decisions and predicting future trends. With his dedication and innovative approach, he is a versatile professional who brings a unique blend of skills and expertise to the ever-evolving digital landscape, enabling businesses to thrive in this dynamic environment.