(Source : market.us)
YouTube is a free video-sharing platform where users can watch, like, share and upload their own videos for viewing or upload. As one of the world's most popular websites with over 2 billion active users worldwide.
Video Content
Music videos
Movies and TV shows
Educational videos
Gaming videos
Comedy sketches
Vlogs
DIY videos
And much more!
YouTube is a great way to learn new things, be entertained, and connect with people from all over the world.
YouTube Key Features:
It enables viewers to search and watch videos across devices ranging from computers and laptops, smartphones and TVs.
Subscribe to YouTube channels: By subscribing, YouTube allows users to stay informed when new videos have been uploaded to any given channel.
Upload Your Videos: YouTube allows anyone to easily create their own channel and upload their own videos for others to view and enjoy.
Like and comment on videos: To share your opinions with video creators, like and commenting can help convey them of what your opinion is.
Create Playlists: By creating playlists, videos can be organized into groups for easy watching.
Go Live: To create the ultimate viewer experience, stream live video directly onto YouTube so your followers can watch you in real-time.
YouTube Premium Features :
YouTube Premium: With YouTube Premium's subscription service, users can watch videos without ads and download videos for offline viewing.
YouTube Music Premium: Subscribers of YouTube Music Premium can listen to music ads-free while downloading songs for offline enjoyment.
YouTube History 
YouTube was established by three former PayPal employees Steve Chen, Chad Hurley and Jawed Karim in February 2005 after having difficulty sharing videos among themselves. The idea for YouTube came about due to sharing difficulty among these three friends.
YouTube first made its debut as a limited beta version on February 24, 2005; quickly after, however, its public debut occurred on December 15, 2005. Google later acquired YouTube for $1.65 billion on November 16, 2006.
Early YouTube was predominantly used for sharing homemade and music videos; as its user base grew, however, YouTube increasingly attracted businesses, educational institutions, and news organizations as content producers.
Today, YouTube stands as the second-most visited website after Google Search. Over two billion active users watch over one billion hours of video every day! YouTube provides users with access to music videos, movies and TV shows, educational content such as games tutorials or lectures; comedy sketches; vlogs; DIY tutorials as well as numerous other types of content which they enjoy watching at any one time or another on its platform.
YouTube has had an immense effect on popular culture and launched many successful musicians, actors, and comedians' careers. Furthermore, it serves as an invaluable educational and research resource.
Key Milestones from YouTube's History:
2005: YouTube officially goes online on April 23, 2005 with "Me at the Zoo", created and uploaded by one of YouTube's co-founders Jawed Karim as its inaugural video upload.
2006: Google acquired YouTube for $1.65 billion in October 9, 2006.
2007: YouTube Introduces their Partner Program, offering creators the opportunity to monetize their videos through this revenue sharing system.
2008: YouTube releases their mobile application for smartphones and tablets to access videos from YouTube.
2010: YouTube introduces live streaming.
2011: YouTube Kids was released for children aged under 13. This app provides them with entertainment that they will find engaging.
2012: YouTube unveils their music-focused application called YouTube Music to provide access to both music videos and audio streaming services.
2014: YouTube launches their ad-free viewing subscription service called YouTube Red (subsequently rebranded to YouTube Premium in 2018).
2015: YouTube Unveils their Virtual Reality app which enables viewers to watch videos in virtual reality.
2016. YouTube Gaming App launched
2017: YouTube introduces their new creator app called YouTube Studio that enables creators to manage their channels and videos from mobile phones.
2018: YouTube unveiled their YouTube Music Premium subscription service, providing ad-free listening and other perks.
2019: YouTube Shorts are unveiled as its alternative to TikTok.
2020: YouTube unveils their subscription-based service that provides live TV streaming via their platform, YouTube TV.
2021: YouTube launches their premium Lite subscription service, providing ads-free viewing without downloads or background playback capabilities.
2022: Google had over 2.5 billion active users as of 2022 and uploaded 500 hours of video every minute – with comedy being its most-favored genre, followed by music, gaming and education.
2023: YouTube users currently watch more than one billion hours of videos daily; their most watched video, "Baby Shark Dance" by Pinkfong Kids' Songs & Stories with over 11 billion views is by far their most-popular choice on YouTube.
2023: T-Series is currently the most-subscribed YouTube channel with over 230 million subscribers worldwide.
YouTube remains a dominating force in the global video market, providing people with access to video viewing, creation and sharing on a range of topics from around the globe.

(Image Data Source : Statista)
Most popular YouTube channels as of February 2023, Ranked by Number of Subscribers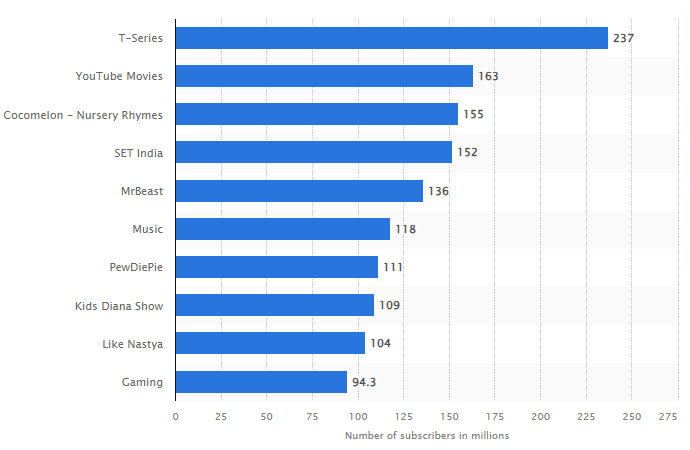 (Source : Statista)
YouTube and social media apps serve different purposes but have large user bases. Here's a comparison of the number of users for YouTube and some popular social media platforms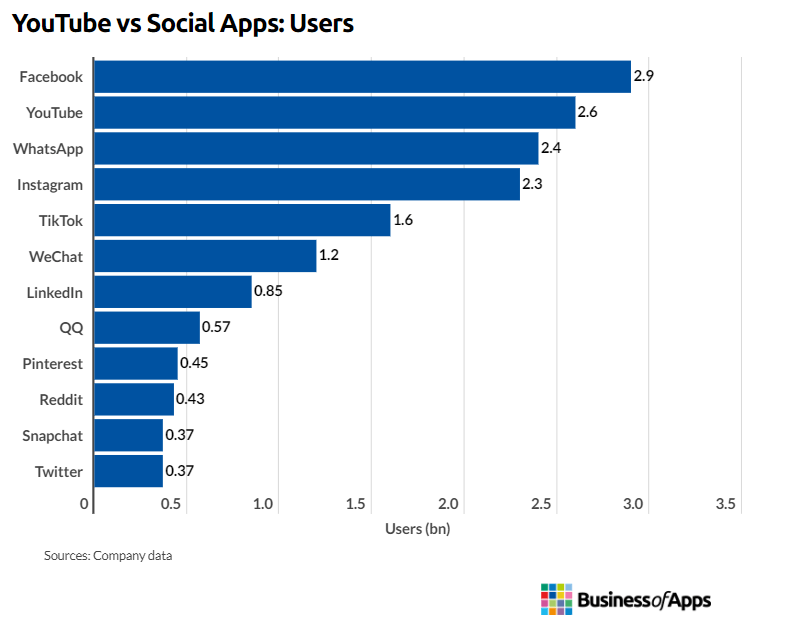 (Source : Businessofapps)
User Demographic
By Age
YouTube attracts an extensive range of users of all ages; the largest demographic, however, are young adults according to Statista. Here is the age distribution of YouTube users as of 2023:

(Image Data Source : Statista)
By Gender
HubSpot reports that YouTube is significantly more popular among men than women – 54.4% are male while 45.6% female YouTubers.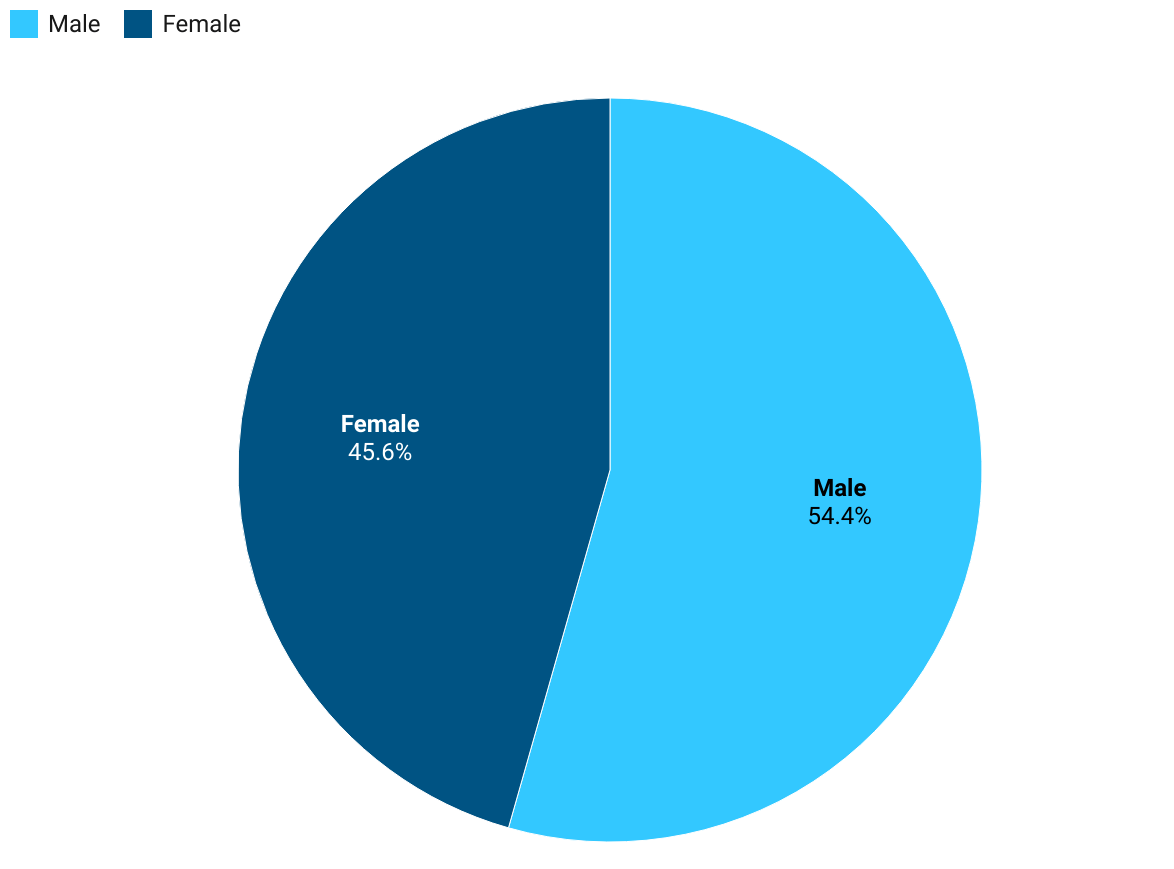 By Countries
Top countries based on YouTube viewership as of July 2023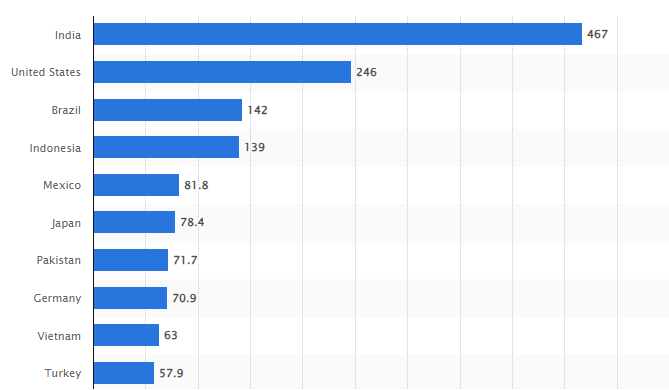 (Source : Statista)
2023 YouTube Statistics
Over 2.70 billion people worldwide utilize YouTube every month.
India was estimated to have 467 Million YouTube viewers by 2023.
YouTube is currently the second-most used search engine globally after Google.
Over 122 million users access YouTube daily via its website or mobile apps.
YouTube reported global ad revenues for Q1 2023 totalling an impressive $6.69 billion.
T-Series currently holds 250 Million subscribers on YouTube as of October 2023.
By 2023, YouTube Premium and Music boast over 80 million global subscribers combined.
Male YouTube subscribers make up 54.4 %, while 45.6 percent of these accounts belong to females.
Most YouTube viewers fall between 25-34.
63% of YouTube viewing time comes from mobile devices.
YouTube's most-watched genres include music videos, entertainment clips and educational clips.
Apple Inc. was the top advertiser on YouTube in 2020, spending $237.15 million.
YouTube accounts for approximately 25% of mobile traffic worldwide.
YouTube is the leading online platform in the US, boasting 74% adult users.
Over eighty percent of US parents with children aged 11 or under report their kids watching YouTube videos.
94.57% of Over-the-Top (OTT) viewers view YouTube content.
YouTube Shorts have amassed more than 70 billion daily views as of 2023.
Recent Developments
In 2023 Google, YouTube Shorts have officially become accessible in 150 countries and territories as of 2023.
In 2023, YouTube unveiled "Live from YouTube" as an innovative new feature that allows creators to stream live videos directly onto their channels.
In 2023, YouTube plans on unveiling "Super Chat," an exciting new feature which allows viewers to pay to have their messages highlighted during live chats.
In 2022 Google YouTube unveiled in 2022 a feature known as Community Posts that allows creators to easily share text, images and videos with their subscribers.
In 2022, YouTube recently unveiled plans to introduce "YouTube Brands," a feature designed to enable businesses create and manage YouTube channels with greater ease.
In 2021, Google YouTube announced in 2021 the introduction of "YouTube Shorts," an exciting new feature enabling content creators to upload short-form videos up to 15 seconds long for YouTube's platform.
In 2021, YouTube recently unveiled plans to implement their new feature "YouTube Music," allowing users to stream both music and podcasts directly on YouTube.
In Conclusion
YouTube has grown from its humble origins as an easy platform to upload homemade and music videos, into one of the world's most influential websites with 2 billion active users worldwide. YouTube is revolutionising how we consume and create video content – offering music videos, movies, tutorials, gaming content, comedic vlogs and much more – making it an indispensable source for global learning, entertainment and connectivity.
YouTube's history is marked with significant milestones, from being acquired by Google in 2006 and then later offering features and services like YouTube Premium, Music Premium and Shorts to having an enduring effect on popular culture as well as creating many careers in entertainment industry. Furthermore, it serves as an educational and research resource providing access to learning materials as well as knowledge exchange platforms.
YouTube attracts audiences of all ages, with young adults being particularly prominent among its user base. Though men dominate its userbase, its global reach extends even to India with millions of viewers worldwide; and YouTube boasts staggering statistics like billions of daily users accessing it daily as well as significant ad revenues generating substantial ad revenues for advertisers.
At present, YouTube remains a dominant force in the global video market, expanding further each year. Its influence in media and entertainment remains undeniable and likely plays a greater role than ever in shaping how we consume and interact with video content – evidenced by innovations like YouTube Shorts demonstrating that this global giant adapts quickly to changes in online video consumption patterns – remaining an indispensable player over the coming years.
What is YouTube, and what can users do on the platform?

YouTube is a free video-sharing platform where users can watch, like, share, and upload their own videos for viewing.
How many active users does YouTube have worldwide?

YouTube has over 2 billion active users worldwide.
What types of video content are available on YouTube?

YouTube offers a wide range of video content, including music videos, movies, educational videos, gaming videos, comedy sketches, vlogs, DIY tutorials, and more.
What are some key features of YouTube for users?

Key features of YouTube include the ability to search and watch videos on various devices, subscribe to channels, upload videos, like and comment on videos, create playlists, and go live.
What are the premium features offered by YouTube?

YouTube Premium offers ad-free video watching and video downloads, while YouTube Music Premium provides ad-free music listening and offline downloads.
How did YouTube start, and who were its founders?

YouTube was founded by three former PayPal employees: Steve Chen, Chad Hurley, and Jawed Karim. It began in February 2005 due to their difficulty in sharing videos.
When did Google acquire YouTube, and for how much?

Google acquired YouTube on November 16, 2006, for $1.65 billion.
What are some significant milestones in YouTube's history?

Some milestones include the launch of the Partner Program in 2007, the introduction of YouTube Kids in 2011, and the release of YouTube Music in 2012.
What is the most-subscribed YouTube channel as of 2023?

T-Series is currently the most-subscribed YouTube channel with over 230 million subscribers worldwide.
How has YouTube impacted popular culture and entertainment?

YouTube has launched the careers of many musicians, actors, and comedians and serves as a valuable educational and research resource, making it a significant influencer in popular culture.
---
ABOUT AUTHOR
Kundan Goyal possesses a wealth of experience in Digital Marketing, offering valuable insights to businesses of all sizes. He actively contributes to industry-specific PR, news outlets, and forums, shaping discussions and driving forward-thinking strategies. Outside of work, HE enjoys carrom and has a deep passion for news editing and research. His strength lies in helping companies make informed, strategic decisions and predicting future trends. With his dedication and innovative approach, he is a versatile professional who brings a unique blend of skills and expertise to the ever-evolving digital landscape, enabling businesses to thrive in this dynamic environment.