The wine industry is an intricate and compelling phenomenon dating back centuries. Wine production has advanced with time to become an international multi-billion dollar industry with new varieties, production methods and consumption habits emerging each year.
History of Wine Production (6000BC-present) Wine production can be traced back centuries; with evidence dating as far as 6000BC! Today it can be found throughout the globe with Italy France Spain being amongst the leading producers. Wine making involves multiple steps from harvesting through crushing fermentation aging.
Key Takeaways
The wine industry boasts an ancient pedigree and has since flourished into an international multi-billion dollar enterprise.
Wine production is an involved process requiring various steps – harvesting, crushing, fermentation and aging are just a few examples – from harvest to bottle.
The wine industry faces many obstacles such as environmental concerns and changing consumer trends; nevertheless, new wine varieties and production processes should continue to expand and prosper in the years to come.
Consumer trends change constantly and businesses must remain aware in order to remain successful.
By 2027, more than 50% of wine spending and 25% of wine consumption will take place outside the home.
Businesses should take note of these habits when developing strategies and should tailor strategies accordingly.
History of Wine Production
Wine has long been part of ancient civilizations' cultural fabric; used medicinally, religiously and at social gatherings alike. Early evidence for production can be found in Georgia; archaeologists there discovered wine residue dating back to 6000 BC on pottery from Georgian factories.
Wine was an integral commodity in ancient Greece and Rome, traded across the Mediterranean region. Roman wine production spread widely through Europe – they even pioneered techniques still widely employed today such as ageing wines in oak barrels!
Middle Age wine production was the domain of monastries and religious orders during this era, which in turn developed many well-known European wine regions like Burgundy and Champagne in France, and Douro Valley Portugal.
European explorers brought wine production and consumption into South America, Australia, and California during the 16th century. Production continued rapidly through to 20th century as advances in technology made large scale wine production easier to manage and distribute efficiently.
Today's wine industry is truly global in scope. Production and consumption take place worldwide with highly-regulated policies covering everything from grape varieties to labeling requirements governing production processes and labelling regulations governing labelling requirements governing distribution networks and more. Yet despite these hurdles and challenges, this business continues to flourish, with new regions and styles of wine emerging at an impressive rate.
Global Wine Production
Wine production is an integral element of the wine industry and, thus, an invaluable contributor to global economies. Wine Industry is poised for remarkable expansion, with its market size projected to rise from USD 473.0 billion in 2022 to around USD 853.4 Billion by 2032. This growth is expected to be driven by a compound annual growth rate (CAGR) of 6.2% during the period from 2023 to 2032.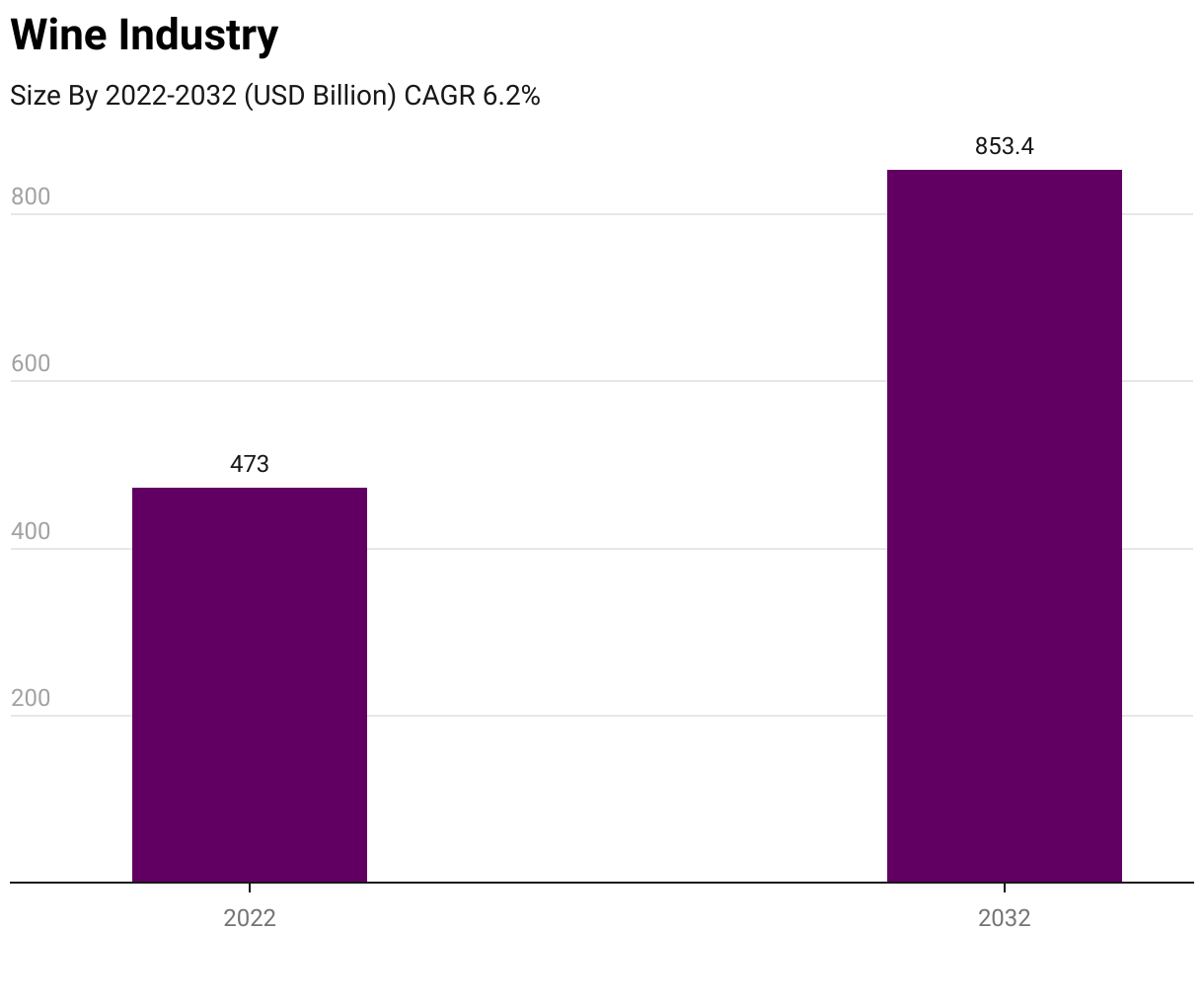 Wine production includes growing grapes, harvesting them and fermenting their juice to produce wine. Production takes place worldwide with certain countries being more prominent producers than others.
According to the International Organisation of Vine and Wine, global wine production for 2022 is predicted to fall between 257.5 and 262.3 million hectoliters (mhl), with an approximate midrange estimate at 259.9. This production volume lies slightly below its 20-year average and shows signs of decreasing by approximately one percent year-on-year since 2021.
Italy, France and Spain account for more than 50% of worldwide wine production other key producing nations include United States, Argentina Chile Australia South Africa.
Wine production can be affected by several different elements, including weather conditions, grape quality and technological innovations. Climate change has had an influence on wine production recently with certain regions experiencing unusual weather patterns that impact quality and yield of grapes used for wine making.
Global wine production is an essential component of the wine industry, with various countries producing wine both domestically and abroad for international sale. Wine production depends on a number of factors including weather patterns, grape quality standards and technological progress being introduced within their regions of production.
Wine Industry Economics
According to Wine America research, American wines generate nearly $276.07 billion in economic activity each year – evidence of its high value added beverage status as well as widespread economic impact for firms seemingly unrelated to wine industry businesses.
The wine industry is a vibrant part of U.S. economy, accounting for an estimated output totaling approximately $276.07 billion or 1.28 percent of gross domestic product (GDP). Employing approximately 1.84 million workers with earnings totalling $95.550 billion annually as wages and benefits; contributing significantly to total taxes collected totalling approximately $22.83 billion by federal, state and local authorities as taxes collected are collected directly by this industry.
The wine industry in the US is an influential employer and provides jobs to many Americans. Farmers, winemakers, salespeople, marketing specialists and even hospitality workers all play key roles within this field of employment. Additionally, transportation, packaging and hospitality support their operation by contributing employees.
WineAmerica estimates that wine production contributes 49 million tourist visits and $16.689 billion in tourist expenditures each year; further, creating thousands of hospitality jobs within restaurants, hotels and wineries themselves.
Overall, the wine industry plays a pivotal role in America's economy by stimulating economic activity, creating jobs, and contributing to tax revenue. Furthermore, its dynamic and ever-evolving nature provide ample opportunity for professionals to build careers.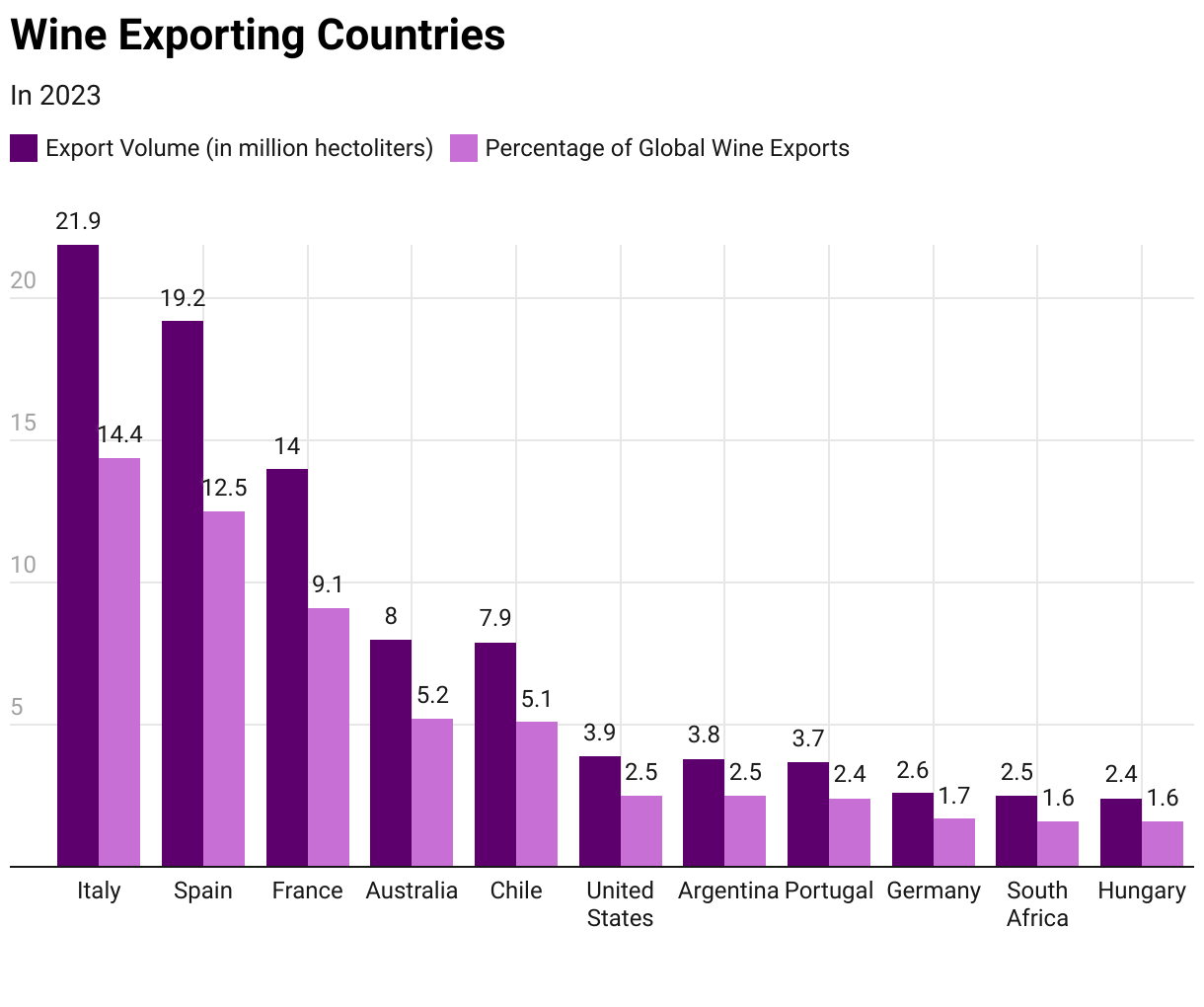 Current State of Wine Consumption in North America
Wine consumption represents an integral component of the alcoholic drinks market. Statista projects that by 2027, 51% of wine expenditure and 26% of consumption will take place outside of home settings such as bars or restaurants – an expected trend as consumers look for new experiences while socializing more frequently.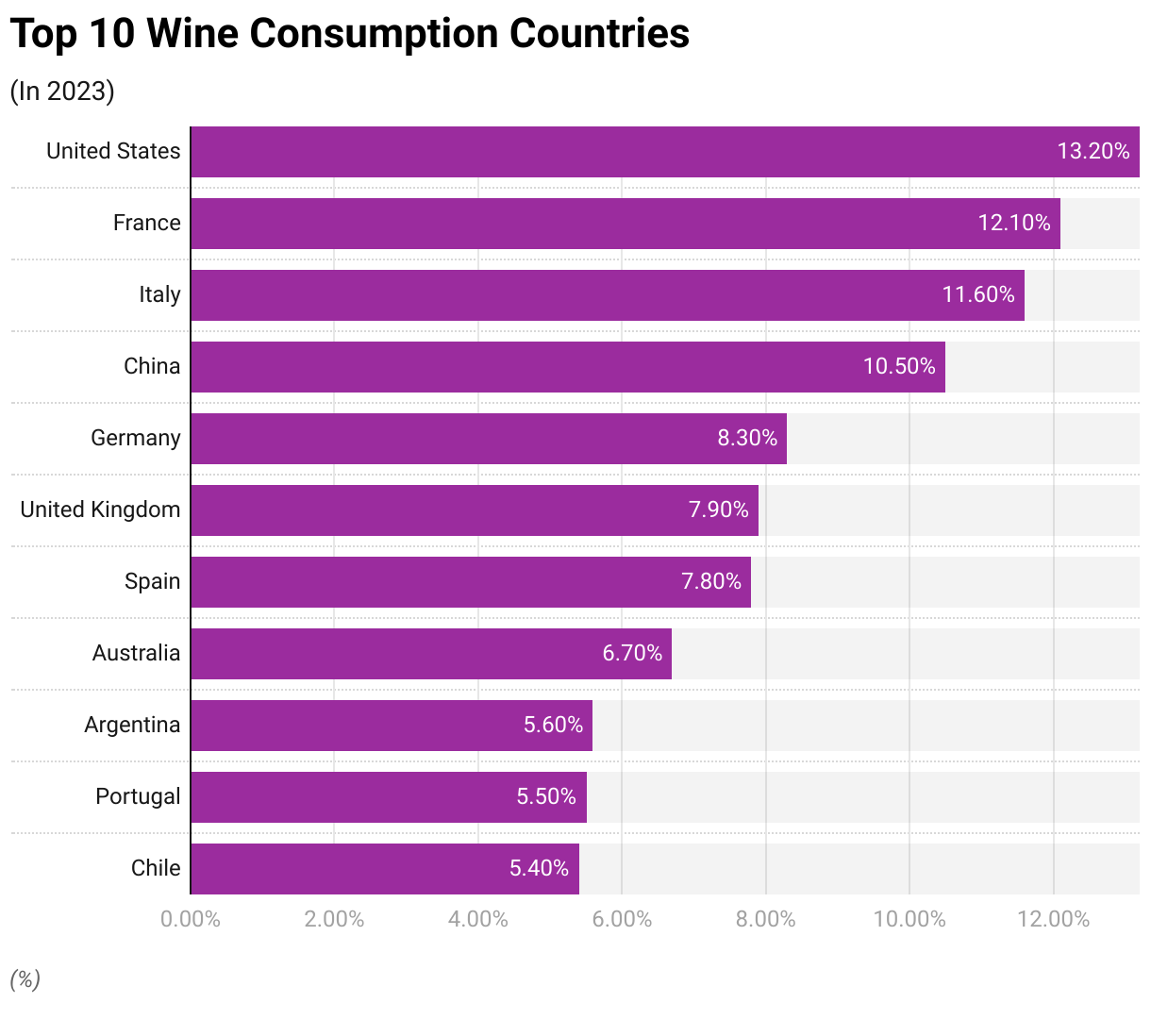 Average Wine Consumed Per Person in 2023.
In 2023, it is projected that individuals consumed an average of 3.14 liters of wine annually, as reported by Pennsylvania State University data showing 63% of US adults aged 18 or over consumed alcohol between 2021-2022; when narrowed based on demographic characteristics or legal drinking age of 21, that rate rises up to 65%.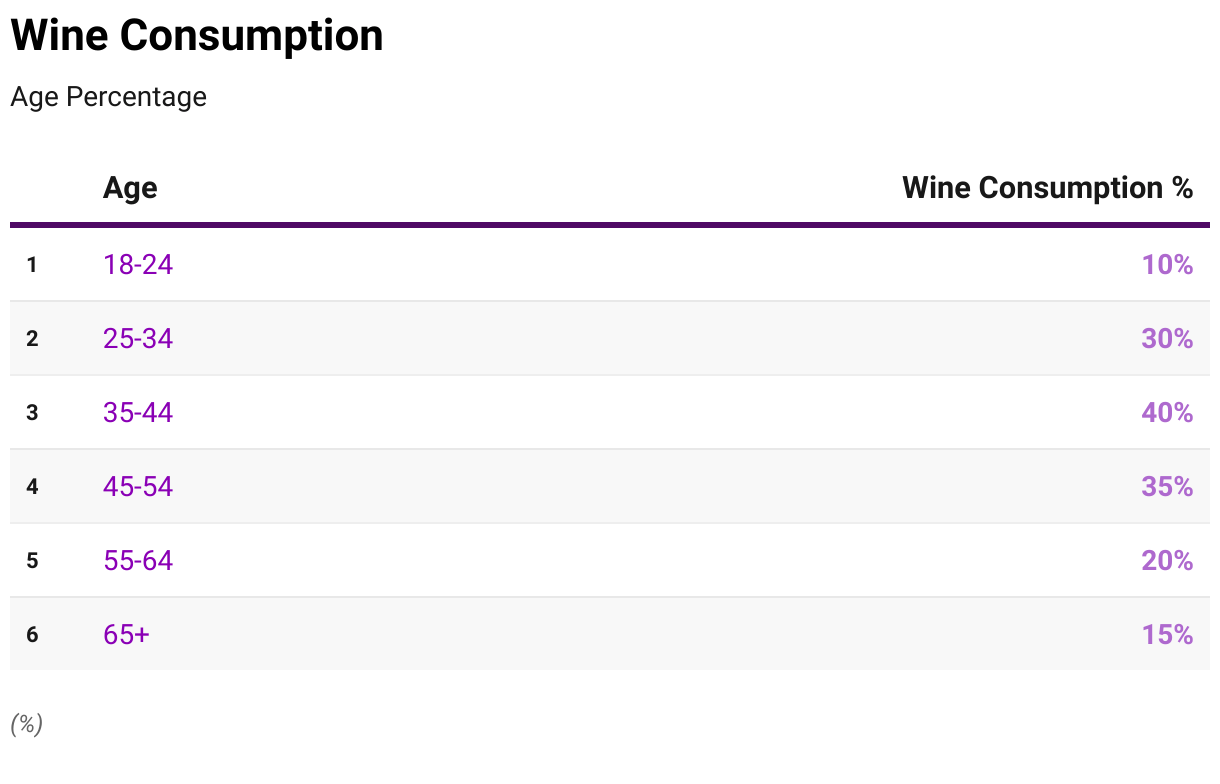 Demographics
Wine Drinking is Rising among 60-Plus But Declining in Younger Demographics
Wine lovers may be alarmed to learn that younger customers drink significantly less wine now compared to 2007. Only those aged 60+ have increased their wine intake since 2007. This trend worries wineries who struggle to attract younger drinkers.
Report findings revealed that 35% of 21-29 year olds consume alcohol but do not drink wine, while 28% of 50-59 year olds do so. Some who stopped drinking wine became marginal drinkers; five percent abstaine from alcohol altogether. Wine sales directly to older consumers continue to increase while younger consumers appear less interested.
Wine consumption trends should alert wine businesses. Winemakers must adapt to changing consumer needs in order to remain competitive; targeting younger drinkers by employing various tactics in an attempt to win them back as wine drinkers.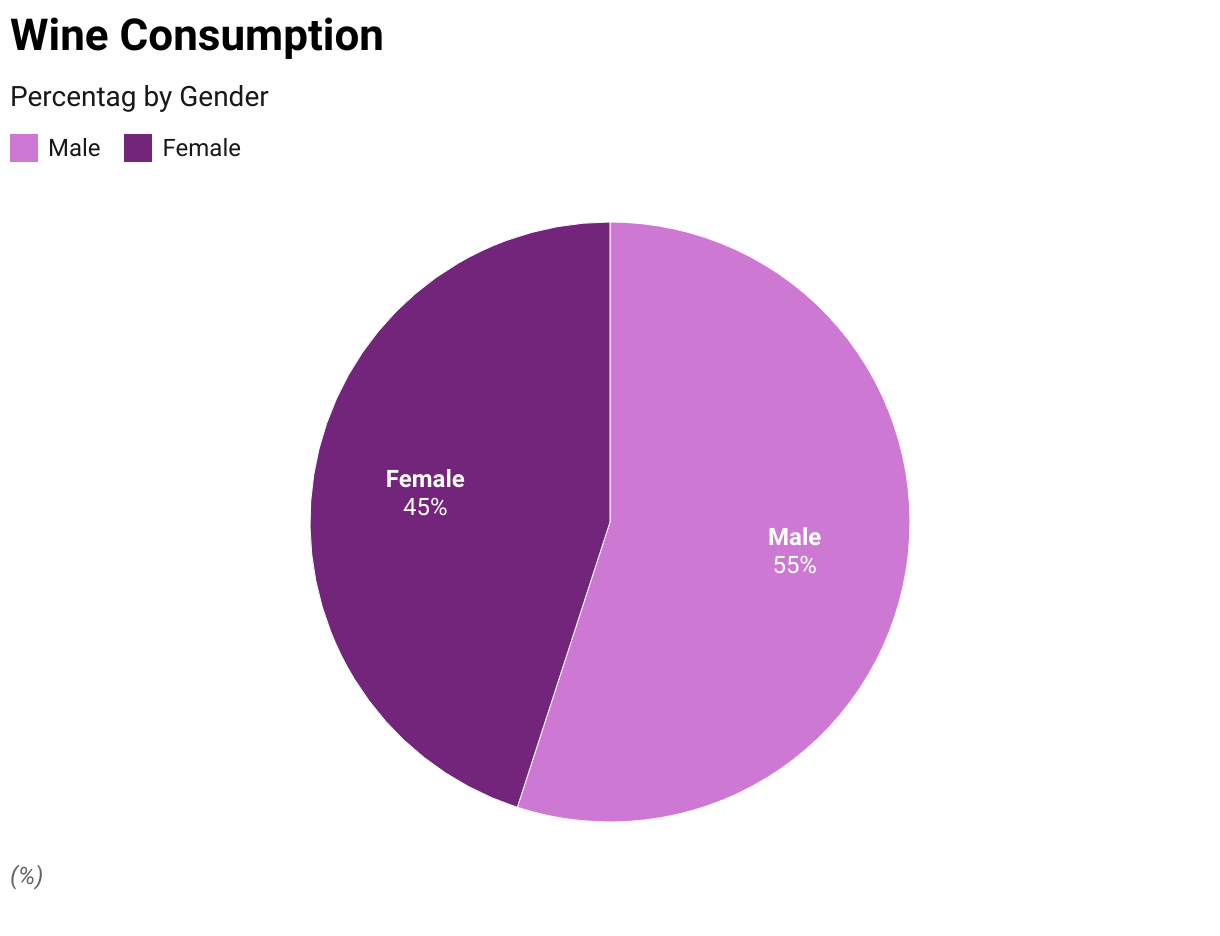 Estimating Spending in Bars and Restaurants
With 51% of wine spending projected to take place outside the home by 2027, it is vital that we consider how consumers will be spending wine at bars and restaurants. Although no precise figure can be given for spending at such establishments, market projections provide us with enough insight for an educated estimate.
2023 estimates the average volume of wine per capita to be 3.14 liters; assuming this trend continues and that wine market growth stays at its current steady rate, we estimate the average consumer spending approximately $200 annually on wine at bars and restaurants by 2027.
Of course, this estimate is just an estimation and many factors could conceivably alter wine spending at bars and restaurants – for instance economic factors, consumer tastes shifts or emerging wine trends could all impact how much people spend. Still, one thing remains certain – wine will continue being an essential component of out-of-home dining experiences, playing an instrumental role in its expansion through bars and restaurants.
Recent Developments
In 2023, E&J Gallo Winery announced their collaboration with University of California Davis to cultivate new grape varieties which are more adaptable to climate change.
In 2023,Treasury Wine Estates announced its purchase of Australian vineyard Yarra Valley Winery for $300 Million.
In 2023, Constellation Brands recently made an investment of $100 million into Canopy Growth, a Canadian cannabis producer.
In 2023, Wine.com recently unveiled their Sommelier Select wine club, featuring top sommeliers worldwide as featured wines.
In 2022,Accolade Wines recently purchased Australian winery Grant Burge Wines for an estimated amount of around $110 Million.
In 2022,Pernod Ricard has acquired American whiskey company Luxco for an astounding $7 billion, creating one of the biggest acquisitions ever in American whisky history.
In 2022, Anheuser-Busch InBev recently purchased Vina Cono Sur for $3.1 billion.
In conclusion
The wine industry, an ancient industry with centuries-old roots, has expanded into an international multi-billion dollar enterprise in modern times. Although faced with challenges including changing consumer trends and adaptation of wineries to younger consumer demands for staying competitive; over 50% of spending will take place outside the home by 2027; adaption must occur for wineries to attract these younger demographics as a source of continued business success.
What are the major trends for 2023 wine consumption?

2023 has seen an inter-generational shift in wine consumption patterns; younger demographics are drinking less wine compared to earlier years while older ones are increasing their wine intake.
By 2027, what will be the trend in wine consumption?

By 2027, it's predicted that 50% of wine spending and 25% of wine consumption will take place outside the home - reflecting an ongoing shift in where and how people enjoy wine.
Are wineries taking steps to address changing consumer habits when it comes to wine consumption?

Wineries are actively exploring strategies to draw in younger wine drinkers. Utilizing various tactics, these firms recognize the necessity of adapting in order to remain competitive in their marketplaces and remain viable competitors.
---
ABOUT AUTHOR
Kundan Goyal possesses a wealth of experience in Digital Marketing, offering valuable insights to businesses of all sizes. He actively contributes to industry-specific PR, news outlets, and forums, shaping discussions and driving forward-thinking strategies. Outside of work, HE enjoys carrom and has a deep passion for news editing and research. His strength lies in helping companies make informed, strategic decisions and predicting future trends. With his dedication and innovative approach, he is a versatile professional who brings a unique blend of skills and expertise to the ever-evolving digital landscape, enabling businesses to thrive in this dynamic environment.