Overview
Weight loss has long been an aspirational goal of many individuals worldwide. Today's society, plagued with the rising incidence of obesity and related conditions has contributed to an awareness of maintaining an ideal body weight – not simply due to aesthetic concerns; weight loss plays a vital role in overall well-being as it reduces chronic disease risks and chronic illness risks. Weight loss measures vary greatly and often involve dieting, exercise regimens or surgical interventions and supplements aimed at weight reduction.
There may be many motivations behind embarking on a weight loss journey, including improving self-esteem, increasing fitness levels, managing existing medical conditions or meeting society standards of beauty. But successful weight loss is an intricate and multidimensional process involving psychological, physiological and lifestyle considerations – an understanding of these intricacies is critical as weight management impacts quality of life and lifespan considerably.
Weight loss Market Size
Weight loss market projections project an astounding expansion, and are estimated at USD 532.5 billion by 2032, an approximate 84% rise compared to their 2022 valuation of USD 260.7 billion. Compound Annual Growth Rate (CAGR) projections show an estimated 7.6% from 2023-2032 for this market segment, reflecting increased emphasis on health and wellness as well as demand for effective weight management solutions. This anticipated market expansion illustrates how focused attention must be directed at effective solutions that ensure healthy outcomes and effective management solutions are made accessible for everyone. factors including rising obesity rates, improved health awareness and changing consumer tastes have all played a part in propelling this upward trajectory, making weight loss industry one of the key areas to explore when looking for opportunities in health and wellness market.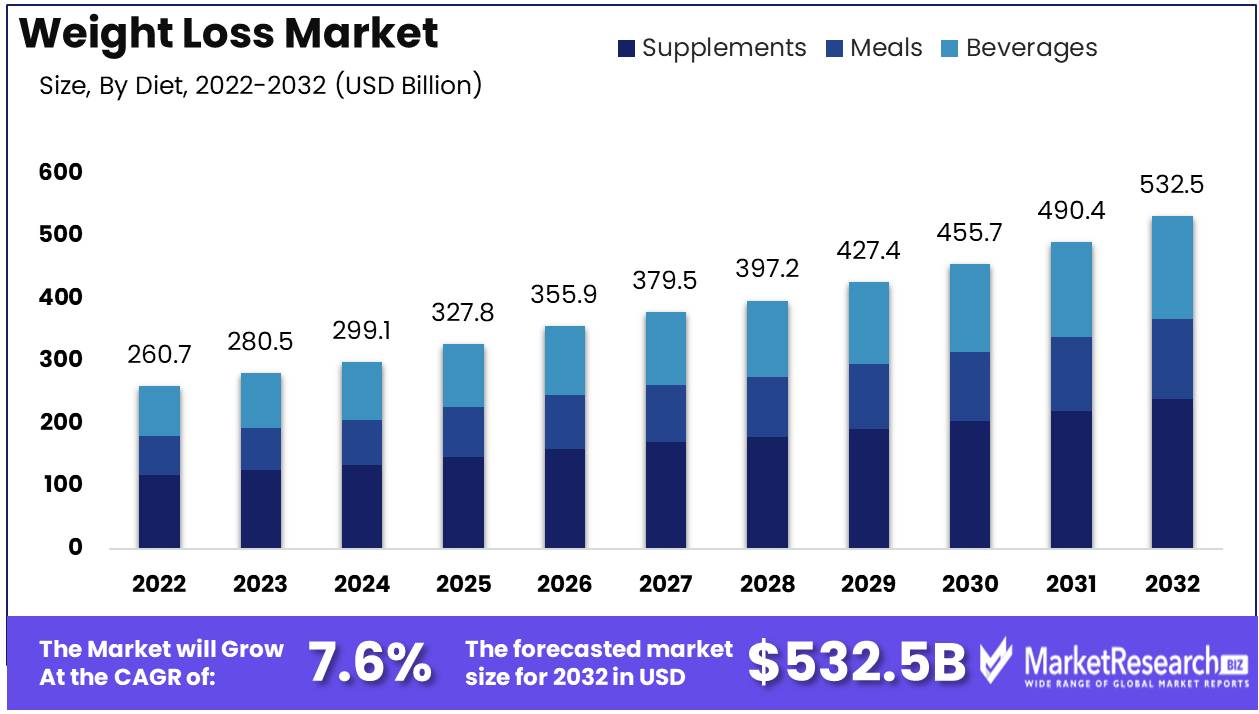 (Source : Marketresearch.biz)
Dieting Culture
People Diet: Each year, approximately 45 million American's attempt to lose weight.
Spending on Weight Loss: Americans invest an estimated annual total of approximately $33 billion into items to assist their weight loss.
Women Are Eager to Lose Weight: More women (56.4%) are looking for ways to shed some extra weight than men (41.7%) are.
Many Adults Aim to Shed Weight: Nearly one half (49.1%) of all adults try to shed unwanted weight every year, according to surveys conducted.
Weight and Income: People who lack money, education and belong to minority racial groups tend to be overweight more frequently.
Responsibility for Weight: 82% of individuals believe losing weight should be their responsibility; only 5% disagree.
COVID-19 and Weight Gain: With COVID-19's widespread presence comes an increase in weight gain among both children and adults alike, particularly with those taking antiviral treatments for influenza-like illness (ILI). This trend may accelerate obesity among its victims.
Sugar and Weight Gain: Nearly one quarter of American believe sugar to be one of the primary factors leading to weight gain.
Fruit and Veggie Consumption: Eighty per cent of people in the U.S. try to increase their fruit and veggie consumption.
19% of American's Shop Farmer's Markets for Groceries: 19% of Americans shop farmer's markets to acquire groceries for purchase.
Homecooked Meals: 64% of people cook their lunch themselves every day.
Failing to Include Enough Nutritional Foods: According to studies, approximately 8 out of every 10 diets don't provide sufficient fruits, veggies and dairy in their daily meals.
Eating At Home: As a result of COVID-19, 55% of American consumers now eat at home more frequently.
Teenager's Habits: Teens who do not drink enough water tend to eat fewer fruits and veggies and drink more sugary beverages than usual.
It appears that many are concerned with their weight and making healthier decisions, yet still face barriers related to income, education and the pandemic.
(Source : Myshortlister)
Regional Weight Loss Trends: 2023 Statistics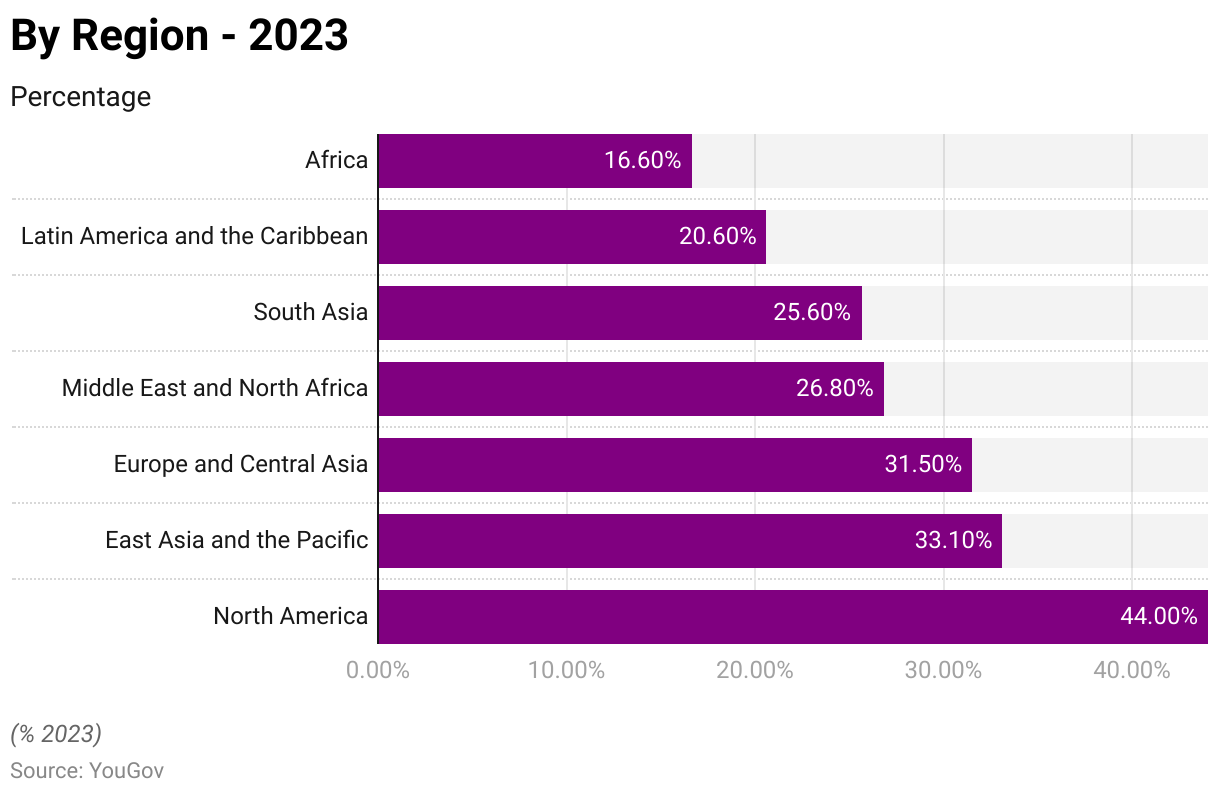 Reasons for Weight Loss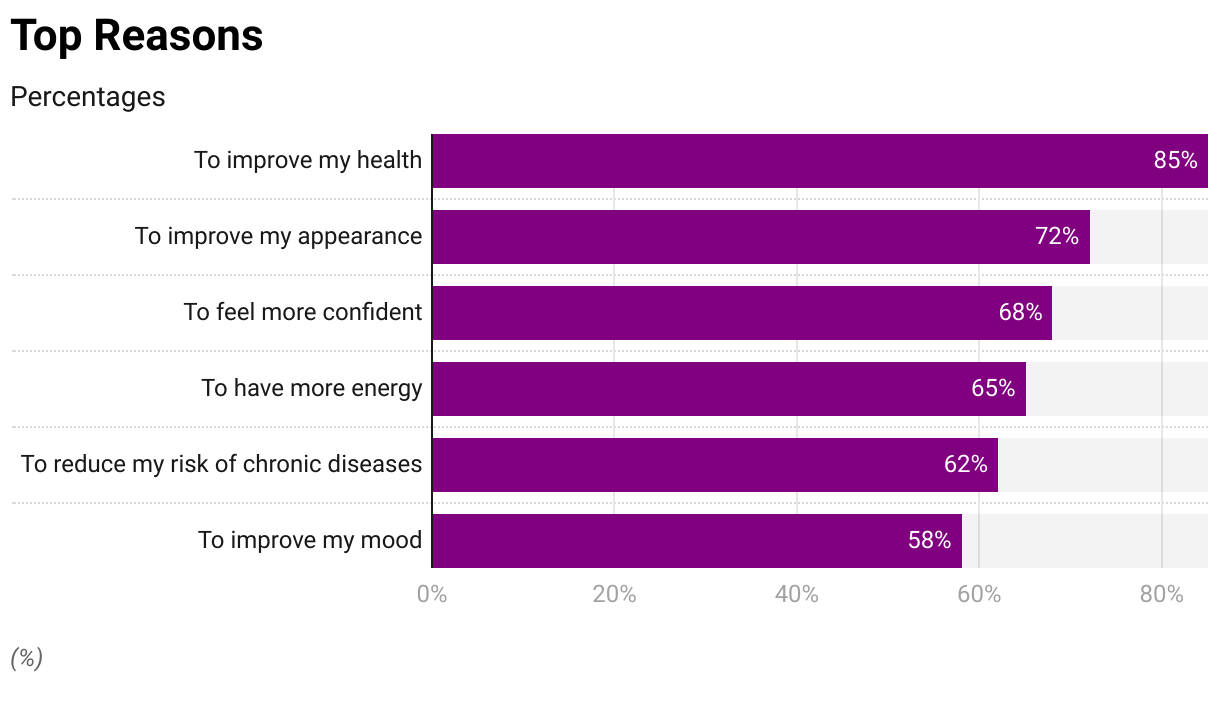 Other possible reasons why people may try to lose weight:
Reduce their risk of injury
Improve their athletic performance
Reduce their pain and enhance their quality of life
Follow their doctor's recommendations
Social and Cultural Factors
By Demographic
Who is Trying To Lose Weight by Gender and Age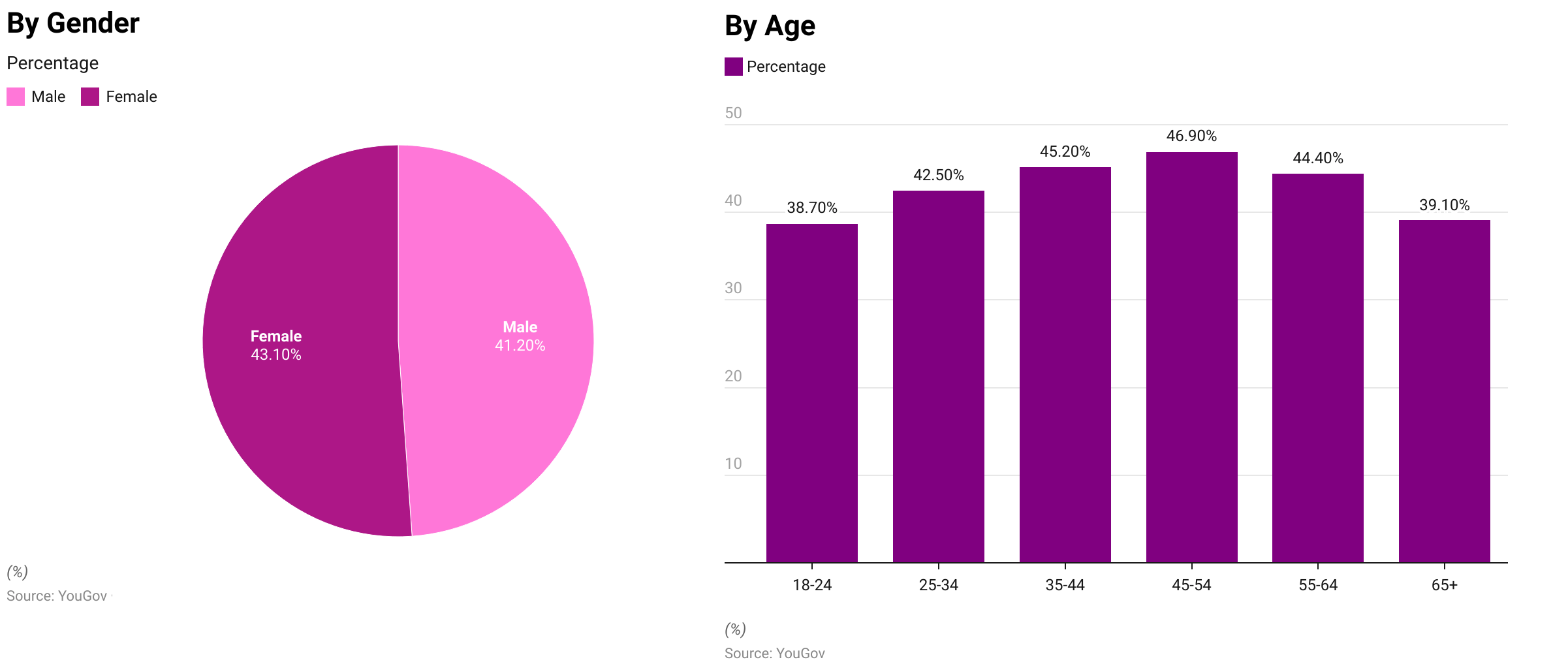 Impact of Obesity on Health – Statistics:
In the United States, 42.2 % of adults over 20 are affected by obesity.
Obesity has been linked with various health complications, including stroke, type 1 and 2 diabetes as well as various forms of cancer.
African American adults have one of the highest obesity rates at 49.6%.
Obesity affects 44.8% of Latino individuals, 42.2% of white adult, and 17.4% of Asian adults.
Mississippi ranks 37.3% of individuals as physically inactive, which contributes to obesity concerns and could potentially increase rates of morbid obesity.
During the COVID-19 lockdown period, over 31% of New Yorkers gained more than 5 pounds as an effect of pandemic infection.
In 2020, more than 70% of American respondents reported engaging in stress eating as an effective coping mechanism during a global pandemic.
Conversely, in 2020 35.67% of North Carolinians achieved weight loss goals despite the challenges presented by pandemic influenza; showing different responses to its crisis.
(Source : Myshortlister)
Weight-Loss Methods
Exercise and caloric restriction remain two of the top weight-loss methods, with 62.9 percent of people choosing these strategies to shed unwanted weight.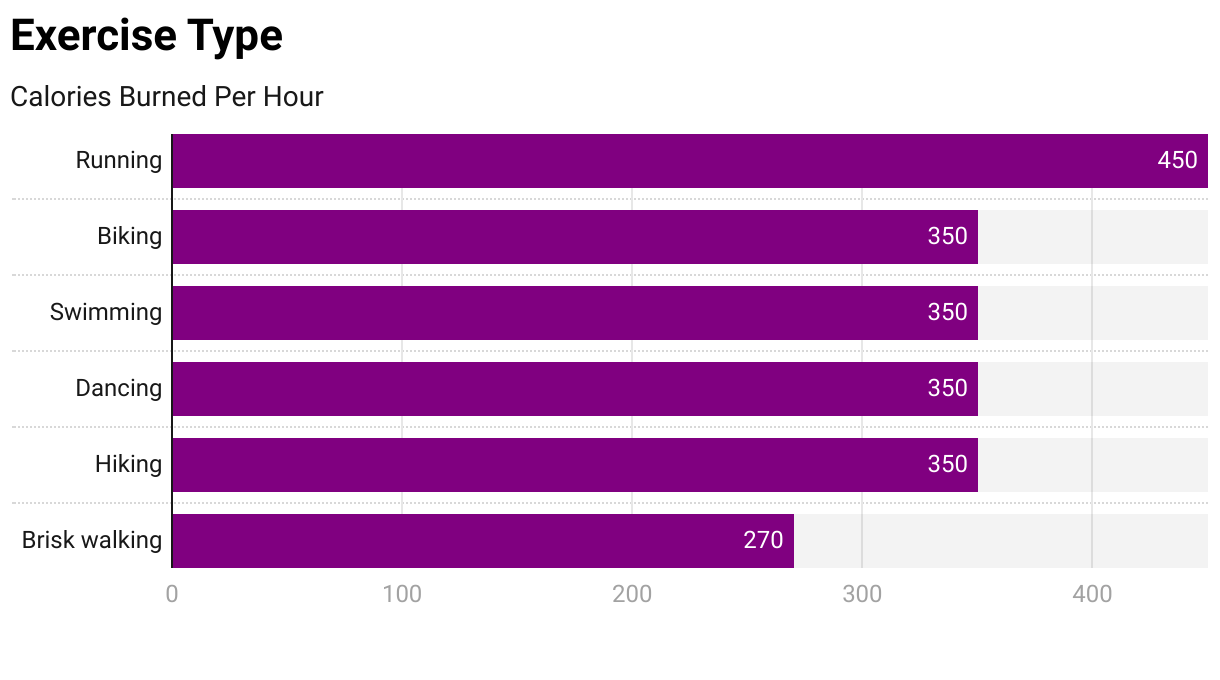 Drinking more water before meals has been shown to boost metabolism by 30% and aid weight loss efforts.
Reducing carb intake is an effective strategy for weight loss as it helps control appetite.
High-protein diets have long been used to combat food cravings, increase metabolism and prevent weight regain.
Sugary beverages like soft drinks and fruit juices may increase your risk of obesity.
Muscle Milk is the go-to brand in American convenience stores for weight management products, providing both strength and support to help manage bodyweight effectively.
An astounding 37% of U.S. consumers currently utilize step counter apps as part of their physical activity trackers.
Get enough sleep. Most adults require approximately 7-8 hours of uninterrupted restful sleep each night
(Source : Myshortlister)
Successful Weight-Loss Strategies
The National Weight Control Registry (NWCR) highlights key weight maintenance strategies.
NWCR members take an average of one hour of physical activity every day – this highlights its value in maintaining weight loss.
Consistent Breakfast Habit: 78% of NWCR members make it part of their routine to consume breakfast daily, which has proven effective at managing appetite and metabolism.
Regular Weigh-Ins: Roughly 75% of NWCR members weigh themselves weekly to keep track of any fluctuations and address them immediately.
Limited TV Watching Time: 62% of NWCR members limit their television watching to less than 10 hours each week, which may help in weight maintenance efforts.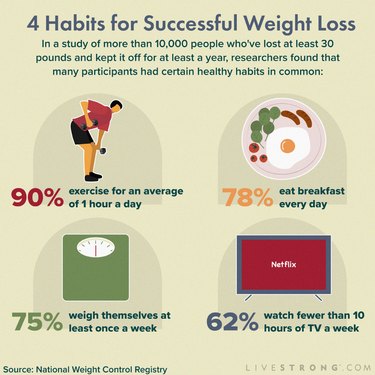 (Source : livestrong)
Special Diets for Weight Loss:
In November 2020, the CDC reported that around 17.1 percent of adults in the United States aged 20 and over were actively attempting to lose weight by adhering to specific diets. Some of the most popular types of these diets include:
Weight-loss or low-calorie diets
Diets designed for managing diabetes
Low-carb diets
Low-fat or low-cholesterol diets
(Source : livestrong)
Recent Developments
2023: Nutrisystem, the pioneer in weight loss solutions, introduces its personalized weight loss plan that uses DNA testing to meet individuals' individualized weight loss needs.
2023: Omada Health, a digital health company, secures $70 Million to expand their weight loss program that integrates online coaching with connected devices to help users shed excess pounds safely and sustainably.
2022: WW International (formerly Weight Watchers) unveils myWW, its revolutionary weight-loss program powered by artificial intelligence which customizes to each individual's specific weight loss goals and requirements.
2022: Noom, a mobile weight loss app, raises $350 Million to expand their business and help users change their eating habits and shed excess weight. They combine psychology and technology in helping their users lose weight more efficiently than ever.
In Conclusion
Weight loss is an integral component of overall well-being and its significance is only increasing with rising obesity rates and health concerns. As obesity continues to escalate, so too do obesity management solutions market's projected expansion efforts; people across various demographics are making efforts to shed excess pounds both for aesthetic reasons as well as medical purposes; yet these efforts face certain barriers such as income and education barriers and events such as COVID-19 pandemic impact.
Effective strategies for weight loss may include exercise, caloric restriction, drinking water before meals and following specific diets. According to the National Weight Control Registry, consistent physical activity such as breakfast intake, weigh-ins at regular intervals and reduced television watching are critical in maintaining weight loss over time.
Obesity continues to be a significant health risk in the U.S., leading to numerous complications for both individuals and society alike. Understanding why weight loss matters and which methods exist as well as its potential health advantages are of vital importance when embarking on any weight-loss journey or participating as part of society as a whole.
What makes weight loss important?

Weight loss can improve overall wellbeing by decreasing chronic disease risks and increasing fitness levels, and can also bolster self-esteem while meeting society's beauty standards.
What is the size of the market for weight loss ?

The weight loss market is projected to reach USD 532.5 billion by 2032 at an average compound annual growth rate of 7.6% from 2023-2032, due to increased health awareness and demand for effective weight management solutions.
How Many People Aim at Losing Weight Each Year?

An estimated 45 million American attempt to shed their excess weight annually.
What are the health implications associated with obesity in America?

In the U.S., 42.2% of adults over 20 are living with obesity - which has been associated with various health complications including stroke, diabetes and cancer.
Which methods for weight-loss are commonly utilized?

Exercise and calorie restriction remain the top weight-loss methods, chosen by 62.9 of people (62.9%). Other effective weight-loss tactics include drinking more water before meals, cutting carb intake and adhering to high protein diets.
What strategies should I employ in order to successfully lose weight?

National Weight Control Registry (NWCR) recommends various strategies for weight management such as physical activity, breakfast consumption consistency, weekly weigh-ins and limited TV watching time as effective strategies to lose weight.
7. Can you discuss some popular diets designed specifically to aid weight loss?

Diets for weight loss typically fall into four categories: low-calorie dieting or weight-loss plans; diabetes management diets; low-carb dieting plans and diets with reduced fat or cholesterol content.
---
ABOUT AUTHOR
Kundan Goyal possesses a wealth of experience in Digital Marketing, offering valuable insights to businesses of all sizes. He actively contributes to industry-specific PR, news outlets, and forums, shaping discussions and driving forward-thinking strategies. Outside of work, HE enjoys carrom and has a deep passion for news editing and research. His strength lies in helping companies make informed, strategic decisions and predicting future trends. With his dedication and innovative approach, he is a versatile professional who brings a unique blend of skills and expertise to the ever-evolving digital landscape, enabling businesses to thrive in this dynamic environment.