Introduction
Virtual Assistant Statistics: As of reports the business of virtual Assistants is blooming in recent days as remote working has become the new normal style of working across the world. It is expected that by 2027 the market of virtual assistants is going to be $17.42 billion. A virtual assistant is basically termed a remote administrative assistant that allows in performing day to day activities such as scheduling meetings, email marketing, planning travel and filing expenses, social media management, data entry and cleanup, invoicing and payment processing, general administrative task, bookkeeping, and etc.
These Virtual Assistant Statistics include insights from various aspects that provide light on the importance of virtual assistant and why it is termed a valuable asset of companies today.
Editor's Choice
In 2022, the market size of virtual assistants resulted in $2.48 billion, which is expected to grow by 25.9% of CAGR by the end of 2030.
After hiring virtual assistants companies have saved almost 78% of total costs.
It was also observed that when employees were working from home, 13% of employees resulted more productive across the world.
North America was holding the highest market growth which resulted in $26945.07 million from 2022 to 2027, followed by the United States, China, the United Kingdom, and Germany.
As of 2023, around 59% of virtual assistants are now employed as full-time workers.
According to Virtudesk, the Philippines is termed the top destination for virtual assistants.
From the report of Best of Budget, on a monthly basis, the rate of virtual assistants varies in the range of $400 to $5,600.
In the United States on average, each virtual assistant makes $32/hour.
Around 49% of companies in 2022 hired virtual assistants who have more than 1000 employees.
In the near future, almost 80% of companies are going to invest more in a flexible workforce.
In 20222, revenue generated by the virtual assistant industry in the United States was $4012 million and by the end of 2023, the revenue is predicted to be 22.35% of CAGR.
Virtual Assistant Statistics by Positive Impacts
As of 2023, virtual assistants were hired by 10.9% which resulted in positive and 84.4% of companies have hired virtual assistants by interviewing through Virtue Desk.
Virtual assistants have enhanced the personal lives of many people which has been accepted by 3.1% of entrepreneurs.
Due to the availability of virtual work facility employee's job life has also been impacted and 96.4% of virtual assistants remained satisfied with their job.
By the end of 2022, around 93.1% of virtual assistants have stated that they want to work in this industry permanently.
Facts on Virtual Assistant Statistics
There is nothing like exact types of virtual assistants, this mainly depends on the industry or company but mainly used types in 2022 were social media marketing virtual assistant, virtual administrative assistant, virtual bookkeeper, virtual assistant writer, and real estate, virtual assistant.
Freelancer virtual assistants allow in saving money on taxes, which is the reason businesses hire them.
In the United States by the end of 2027, the number of freelancer virtual assistants is expected to be 86.5 million.
The weekly working hours of virtual assistants on average was 20 hours or even less and in which assistants can choose their preferable time of work.
85% of virtual freelancers were having business websites by the end of 2022.
Most large companies have hired virtual assistants as they can afford luxury and in the United States, 32% were independent workers prefer by choice and 14% prefer by necessity.
As of reports, 60% of virtual assistants were having college degrees and well-educated professionals.
According to virtual assistance industry statistics, the lowest salary limit for virtual assistants was 15,000/year and the largest limit varies from $31,500 to $100,000 per year.
General Statistics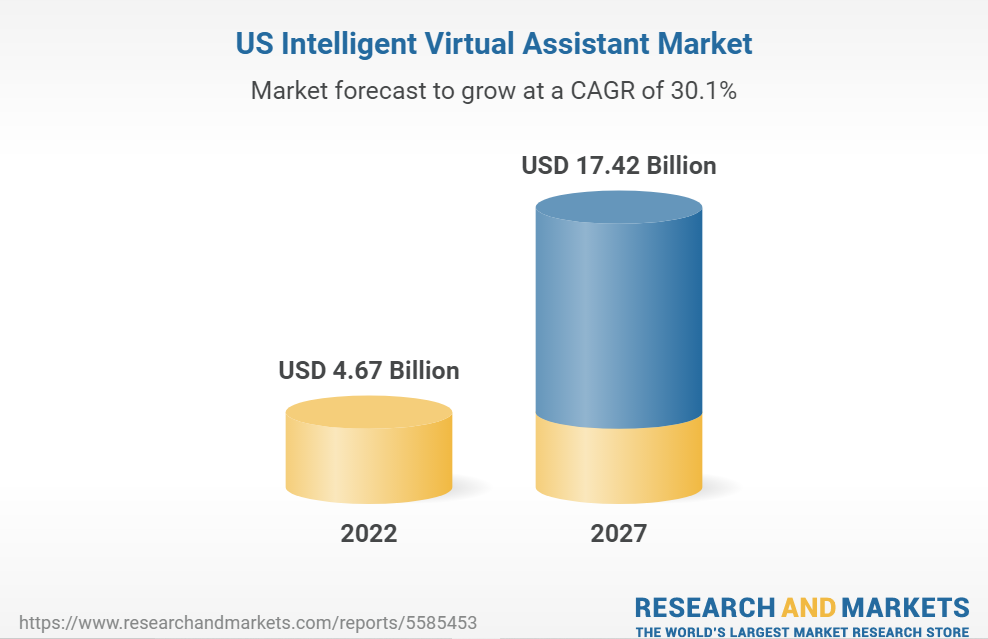 (Source: researchandmarkets.com)
The top-demand services of Virtual Assistants were cold calling, email communication, taking customer calls, and customer scheduling.
Whereas the specialist of virtual workers generally includes project management, bookkeeping, content research, customer research, billing, invoicing, customer research, customer support, and admin works.
In 2022 the revenue generated by the virtual assistant industry was $4.67 billion and by 2027 it is supposed to be $17.42 billion.
17% of virtual workers felt more stressed and anxious as compared to on-site workers.
37% of employees felt more stressed than those who were working in cubicle-cycle offices, which is followed by 32% of virtual assistants working in open-plan, and 31% of workers in private offices felt more workplace stress.
By the end of 2030, flexible office space in the United States is expected to reach 13% which will allow in boosting the demand for co-working spaces.
Virtual workers spend time interacting via emails almost 30% of a workweek which is described as 160 business emails/day and 800 emails/week.
It has been observed that virtual workers remained more satisfied than traditional workers in 2022.
For hiring virtual assistants the top location across the world were the Philippines and India as both countries were having top position lists in global outsourcing. 
Virtual Assistants Statistics by Highest Paying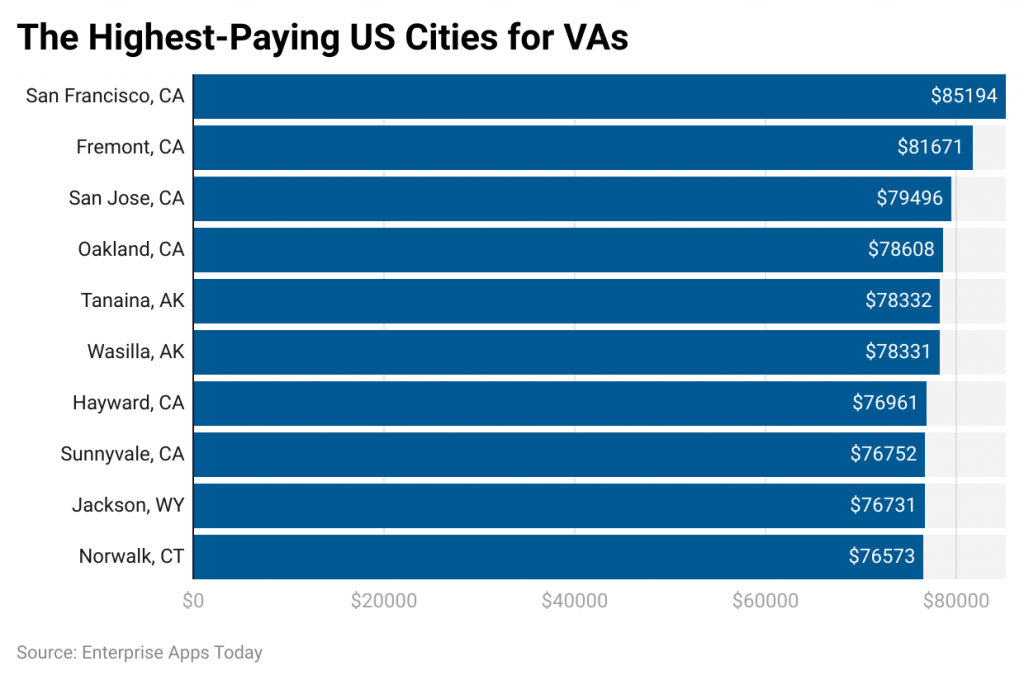 (Source: 99firms.com)
By the end of 2022, in the United States, the highest salary earned by virtual assistants in San Francisco was $85,194.
The other cities of the United States with highest paying virtual assistants were Fremont ($81,671), San Jose ($79,496), Oakland ($78,608), Tanaina ($78,332), Wasilla ($78,331), Hayward ($76,961), Sunnyvale ($76,752), Jackson ($76,731), and Norwalk ($76,573).
In the United States, the average annual pay for virtual assistants was $67,115 with which daily earnings were $32 and monthly earnings were $5,600.
15.5% of American people have earned annually $25,500 – $35,999, another 15% earned between the range of ($15,000 – $25,499), and another 15% earned ($99,000 – $109,499).
Furthermore, the percentage of the U.S. virtual assistants earned is followed by $36,00-$46,499 (12%), $67,500-$77,999 (8%), $46,500-$56,99 and $78,00-$88,499 (6%) each, $57,000-67,499, $88,500-$89,99, and $109,500-$119,999 (5%) each, and $120,00-$130,500 (3%).
Virtual Assistant Statistics by Demographics
In the United States in 2022, White Americans was having the majority share of virtual assistants at 70.8%, which is followed by Hispanics (14.8%), African American (8.7%), and Asians (3.5%).
The most virtual workers were women which is making 82.6% which has slightly increased from last decade.
More than half of the virtual assistants were Spanish speakers 62.1%, which is followed by French speakers (8.6%), German (6.9%), Portuguese (3.4%), and Japanese (3.4%).
60% of Virtual assistants were having college degrees and the majority of virtual workers were above 40 years old that is about 78%, age group 30-40 years (16%), and age group 20-30 years (6%).
Married virtual assistants were about 69.3% and kids were 76.1%
Virtual Assistant Statistics by Specification
(Source: static.wixstatic.com)
Starting from 2022 to 2023, the most paid salary for virtual assistants was $54,000, the usual pay ($39,915), and the lowest pay ($29,000).
Virtual assistants used the top application was Samsung's Bixby with a share of 14.5%, followed by Apple's Siri (13.1%), Amazon's Alexa (3.9%), Google Assistant (23.3%), and Microsoft's Cortana (2.3%).
The Smartphone systems used by virtual assistants were Android (60.3%), Baidu (22.7%), Apple (17%), and Samsung (5.4%).
In the United States, 75% of senior-level virtual assistants have earned $22.12/hour and $46,000/year, 50%of mid-level virtual assistants have earned $19.19/hour and $39,915/year, and 25% of junior-level virtual assistants have earned $15.87/hour and $33,000/year.
As of 2023, in Salvador, 99% of business owners were saving their budget for hiring Virtual Assistants and almost 97% of assistants were feeling more productive while working from home.
In 2023, almost 60% of U.S. businesses have planned to hire more virtual assistants and 66% of companies have already hired by the end of 2022.
Due to virtual assistant implementation, 67% of business owners have increased the efficiency rate.
Virtual Assistant Statistics by Work
Companies mostly prefer hiring virtual assistants over full-time workers as it allowed them in saving almost 78% of total costs, which includes many overhead expenses, office spaces, and internet.
It was also observed that when employees were working from home, 13% of employees resulted more productive across the world.
The highest salary earned by Asia virtual assistants is an average of $40,932. Whereas, White virtual assistants ($38,409), Both Latino and African American ($39,100).
Across the world, in the United States, the wage of a virtual assistant was $27.32 per hour and annually earned $57,206.
Whereas, Indian virtual assistants earned $1.8 per hour and $3,715 annually.
Virtual Assistant Statistics by Top Cities Salaries
(Source: thereistalent.com)
In the U.S. the most paying city for virtual assistants was San Francisco with an annual salary of $85,194 and $7,400/month approximately
As of 2023 in the United States, a virtual assistant's salary earned by the top city was Tulsa, Oklahoma ($8,084) per month.
The other cities monthly salary earnings were followed by $7,604; Chicago and Illinois earned $6,187/month.
The approximate monthly salary earned by New York and Los Angeles was $5,861 whereas; Houston and Texas earned $5,035.
The city of Tennessee ($4,679), Down in Tampa, Florida ($4,589), and Atlanta ($4,241)
Virtual Assistant Statistics by The Company
In the virtual assistant sector, the monthly salary provided by TEEMA Solutions Group Inc. was $8,466
The other companies were Lancaster Archery Supply ($5,857/month), and Amedisys ($5,587/month).
As of March 2023, almost 140 million virtual assistant users were using Smartphones and speakers.
The most available virtual assistants in companies are Apple Inc, Artificial Solutions, Baidu Inc, Amazon.com Inc, Google LLC (Alphabet Inc), Harman-Kardon Inc, IBM Corp, IPSOFT INC, Kore.ai Inc, Microsoft Blackberry, Bose Corp, Inbenta Technologies Inc, Innovators, Cognitive Code, Creative Virtual Ltd, Facebook, Serviceaide Inc, Sonos Inc, and Xiaomi Inc.
By the end of 2022, the share of virtual assistants in the different job areas was the administrative work department with 37.7%.
Furthermore, industries are followed by the marketing industry (20.5%), sales and prospecting sector (14%), operational sector (9.70%), customer service department (6.30%), finance and bookkeeping (4.30%), human resource, social media marketing, projects, real estate and video editing sector (7.5%).
The share of virtual assistants in different types of industries was 14% in professional services, technology (12%), media (8%), startup businesses (8%), internet (6%), manufacturing (6%), government sectors, finance, hospitality, real estate, and non-profit organizations (3%), insurance (2%), and transportation, telecommunication, and energy (1%)
 Salary Statistics by Countries
(Source: enterpriseappstoday.com)
By the end of 2022, the highest monthly salary earned by virtual assistants was $5,600.
The second and third highest country of monthly earned salary was the USA and the UK with $4,000 and $3,600 respectively.
Other countries were followed by Romania ($2,240/month), Pakistan ($1,120/month), Mexico ($960/month), India ($800/month), Thailand ($640/month), and the Philippines ($400/month).
Whereas, the top-paid states who paid average salaries to their virtual assistants were Hawaii, Washington, and Alaska. 
Virtual Assistant Statistics by Penetration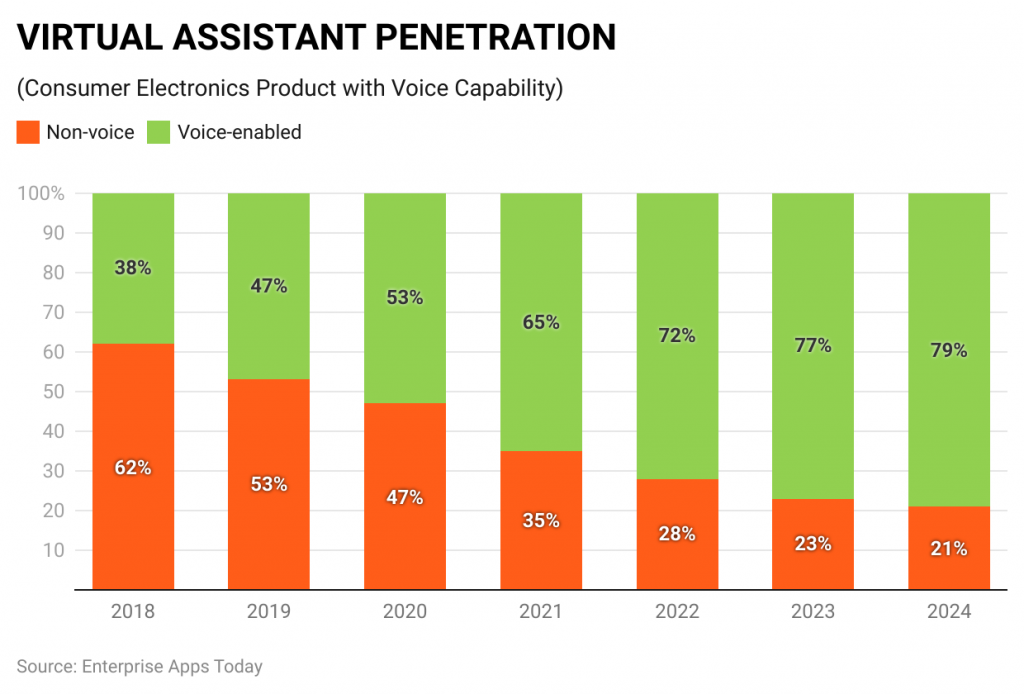 (Source: future source-consulting.com)
The virtual assistant market was segmented into two parts non-voice and voice enables.
In 2022 the penetration rate of virtual assistants was 28% non-voice and 72% voice-enabled.
As of 2023, non-voice was having 23% market penetration and voice-enabled with 79%.
By the end of 2024, the market share of the virtual market has expected to double and as of the latest report, the market of voice assistant technology will be 3 billion units which is 79%, and non-voice by 21%.
Virtual Assistant Statistics by Region
(Source: marketsandmarkets.com)
By the end of 2023, the intelligent virtual assistant market was expected to be $17.72 billion which has grown by 38.82% of CAGR.
The highest market share was covered by 40% Asia Pacific which is followed by North America (20%), Middle East and Africa (18%), South America (12%), and Europe (10%).
Virtual Assistant Statistics by Challenges
In 2022 companies that were having virtual assistants faced a few important challenges and the top challenge was a lack of expertise and skills training process 13.1%.
The second reason was the time difference covered which covered 13.1%, which were followed by holding accountability (8.2%), potential data and security loss (8.2%), language barrier (4.9%), and Cultural difference (4.9%).
On the other hand, 47.5% of business owners never faced any challenges while working with virtual assistants.
Virtual Assistant Statistics by Voice Technology Segments
(Source: intellias.com)
As of 2023, in the United States, 55% of virtual assistants have used smart voice-based assistants.
The voice technology segment is an effective segment for virtual assistants.
The voice capabilities utility share provided by companies were account balance (46%), efficiency tips (38%), Utility contact information (38%), make a payment (23%), source of electricity generation (15%), outage status update (15%), outage status update (15%), and smart home device control (8%).
By the end of 2022, the smart assistant-capable used by virtual assistants was 1.6 billion units.
Conclusion
As of now after completing the article on Virtual Assistant Statistics it is clear that this is an emerging profession and the business has grown more during the time of pandemic. The virtual assistant has already become much popular as it provides a wide range of services as well as makes the overall business cost-effective across the world. An excellent virtual assistant helped in saving time and money and enabled accurate performance by generating higher-quality results. This article includes many important statistics that will help in better understanding why the majority of businesses are now hiring virtual assistants.
---
ABOUT AUTHOR