Overview
Esports (or electronic sports), is an ever-evolving niche which encompasses competitive video gaming on both professional and amateur levels. Skilled gamers and teams compete head-to-head across an assortment of video game genres – first-person shooters, real-time strategy games, multiplayer online battle arenas (MOBAs), sports simulations – in this digital arena. Esports has given birth to an entirely new class of professional athletes: pro gamers. Many join established esports organizations which provide them with support, salaries and coaching – not unlike professional sport organizations that support its members with coaching services and salaries.
The competitive video gaming industry shows no signs of slowing down, with revenues projected to reach $1.62 billion in 2023 based on current trends. Propelled by game developer investments, media rights deals, streaming viewership records and sold out esports arenas, professional gaming competitions have solidified their place in the broader entertainment landscape. Asia remains the dominant region for esports, but North America and Europe also represent major markets. This article will provide key statistics and trends on the size, growth, revenue streams, demographics and regional breakdown of the global esports market in 2023 and beyond. With its young digitally-native demographic, robust infrastructure and massive future growth potential, esports represents an increasingly attractive opportunity for brands, advertisers, game publishers and investors alike.
Top 10 Esports Statistics of 2023- Editors

Choice
Esports market globally is valued at more than $1 billion.
Esports viewership is projected to hit 46.2 million individuals by 2023.
60% of esports fans fall between 16-35.
Average Esports fan Age 26
Twitch had an estimated average concurrent viewer count of 2.58 million in 2022.
Twitch viewers watched more than 1.34 trillion minutes of videos in 2022 on its platform.
Dota 2 currently boasts the world's highest prize pool esports prize pool at over $300 Million.
N0tail (Johan Sundstein) holds the world record for highest earnings from esports players with over $7 Million won to date.
Team Liquid has earned more than $100 Million through esports winnings since their establishment.
2023 saw Dota 2, League of Legends, Counter-Strike: Global Offensive Valorant and Arena of Valor being among the top esports games.
Here's another interesting statistic that I find impressive:
Over 7.6 million individuals stream actively on Twitch.
Esports Market Size Reaches New Heights
The global esports market reached an estimated $1.4 billion in revenue in 2022, up 12.6% year-over-year.
The market is projected to surpass $1.6 billion in revenue in 2023 based on its current growth trajectory.
Rapid Growth Projected in Coming Years
By 2025, the global market could exceed $2 billion in size, representing a compounded annual growth rate of around 12.6% from 2022-2025.
Factors driving growth include investments from publishers, sponsorships, media rights deals, merchandise sales and advertising revenue.
The esports market is projected to grow to USD 4.4 billion in 2032, with a compound annual growth rate of 12.6%.

Esports Popularity Surges
Esports tournaments like League of Legends Worlds are selling out huge arenas and breaking viewership records, demonstrating the popularity of competitive gaming.
The 2022 League of Legends World Championship drew over 100 million unique viewers.
Global Esports Market Revenue by Segment 2023

(source : demandsage)
Esports betting is the largest revenue generator, followed by media rights, sponsorship and advertising deals, game publisher fees as well as tickets and merchandise sales.
Esports betting has quickly become popular throughout many nations, such as the US, EU and China. Bettors can place bets on the outcomes of matches, tournaments or individual player performances to predict how esports tournaments or individual player performances play out.

(source : demandsage)
Media rights revenue is generated through the sale of broadcast and streaming rights for esports events, both traditional TV networks as well as streaming platforms like Twitch and YouTube Gaming.
Sponsorship and advertising revenue is generated from sponsorship agreements between esports teams, organizations and brands, reaching an extensive and growing target market of gamers through these teams.
Game Publisher Fees are fees paid to game publishers so esports organizations can host tournaments on their IP, using it.
Tickets and merchandise revenue is generated through ticket sales to live esports events as well as merchandise like team jerseys, hats and mugs sold as merchandise items.
In the coming years, esports markets should experience strong expansion due to factors like rising betting popularity and growing viewership as well as investments from brands and sponsors.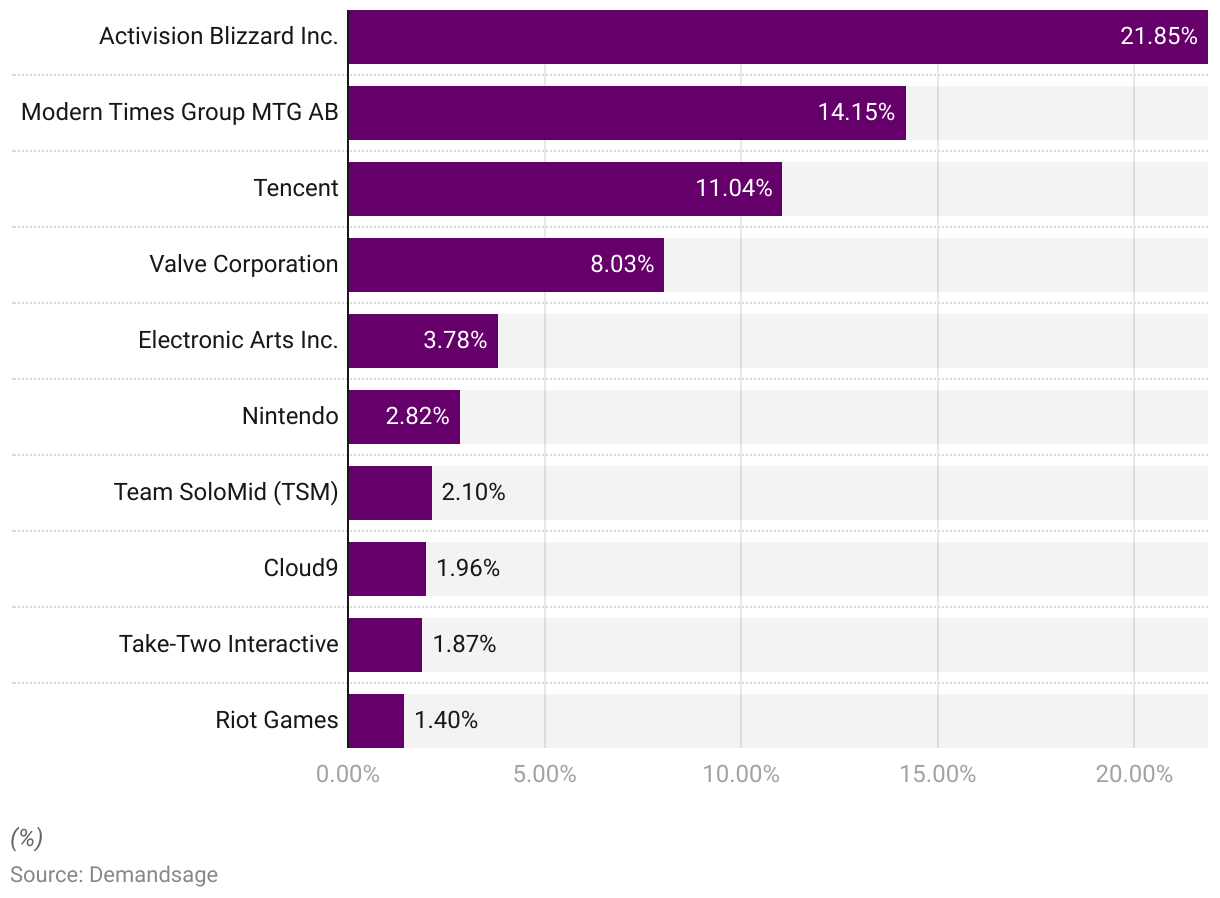 Esports Demographics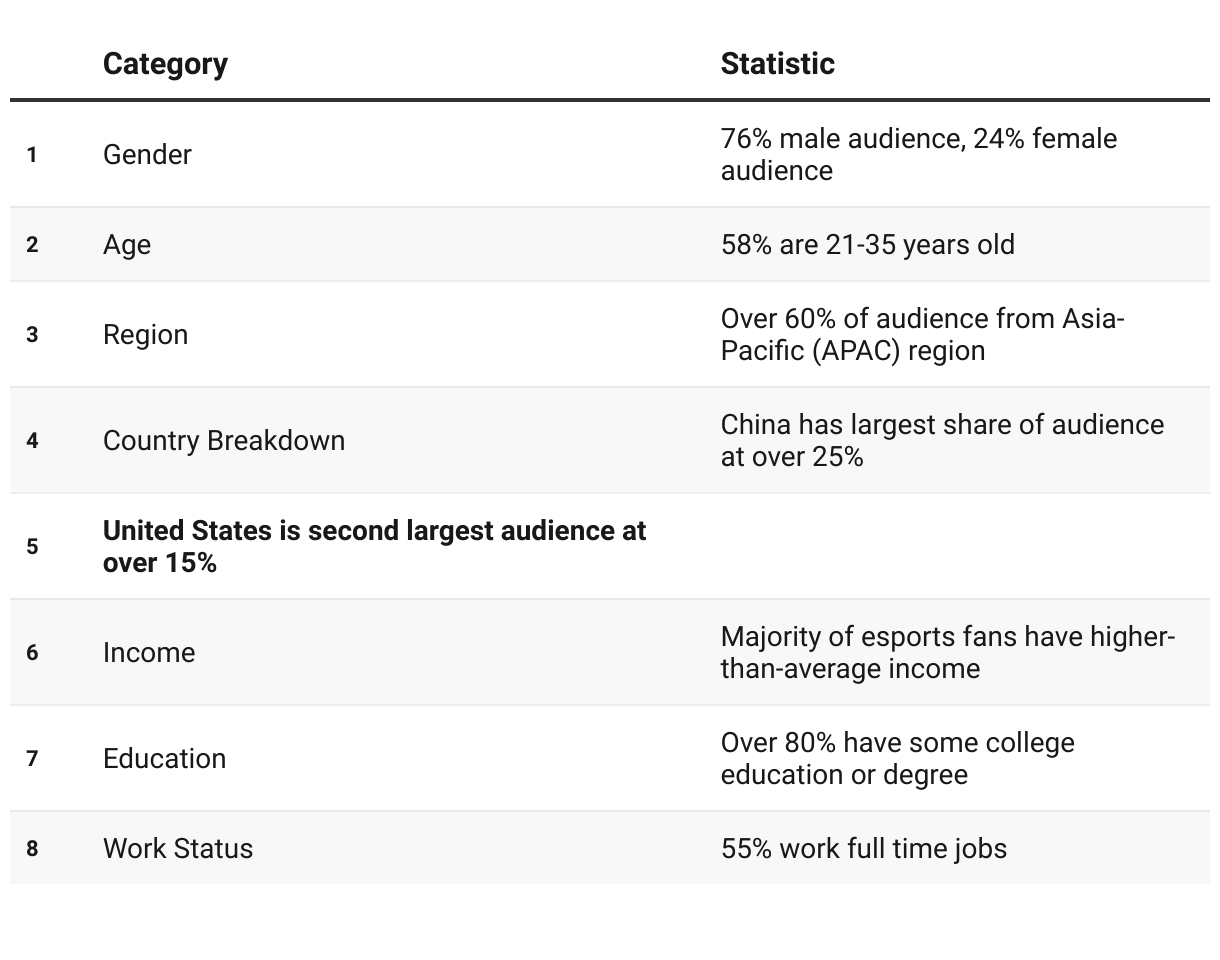 Most Popular Esports Games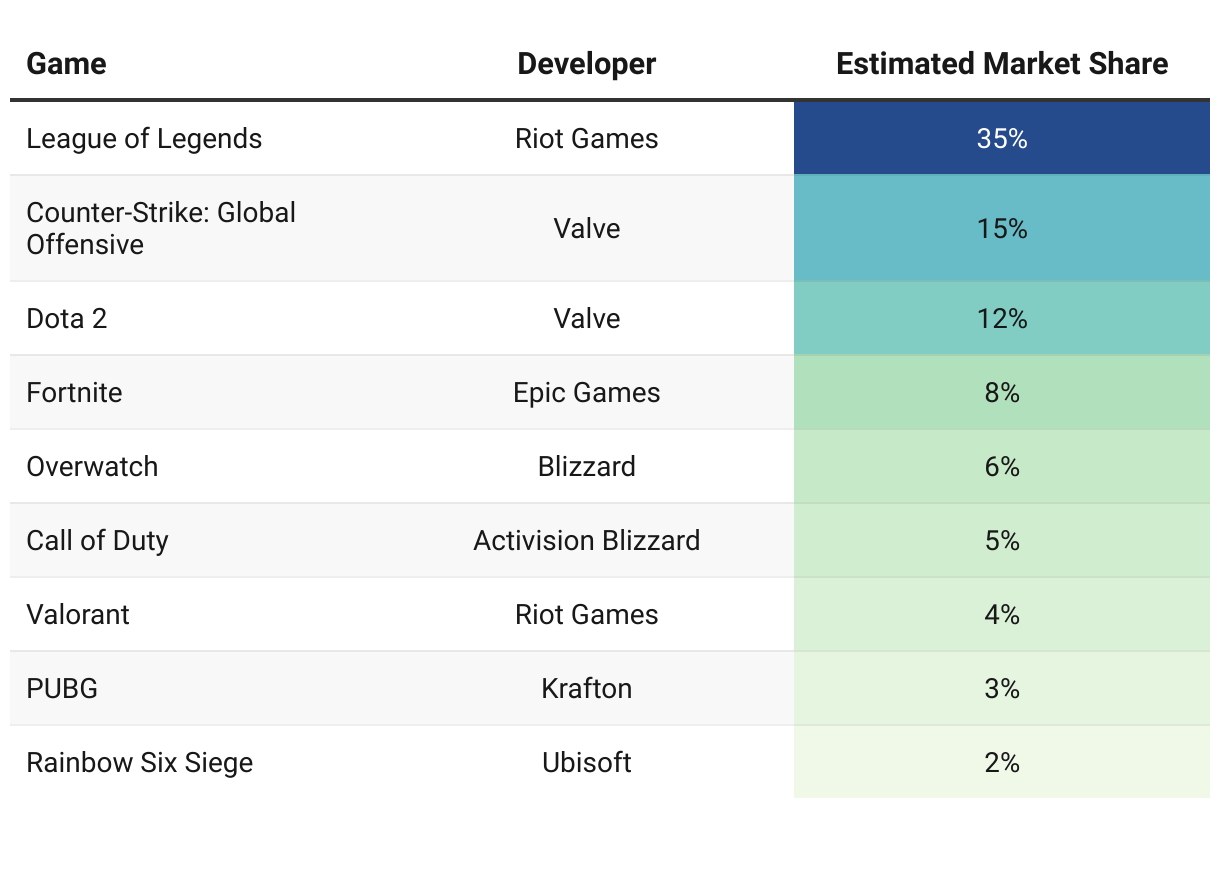 Top 15 Nations with High Esports Engagement Rate: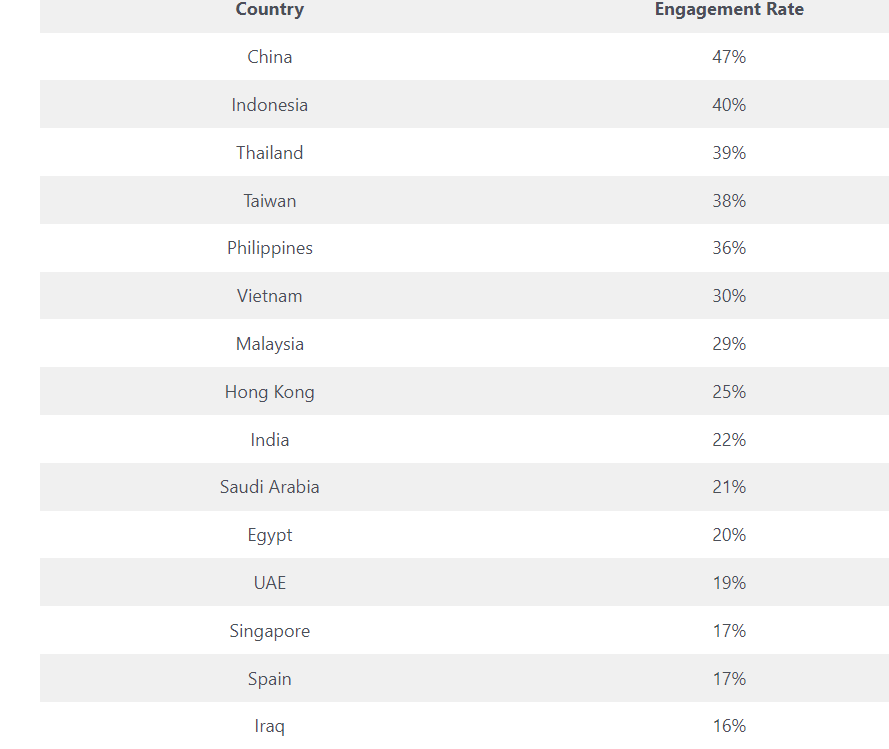 This table serves as an accurate reflection of South Asian nations with the highest engagement rates worldwide.
(source : demandsage)
Recent Developments
In 2023 , Esports Entertainment Group (EEG), a global esports and entertainment company, completed its acquisition of Helix Esports for $35 Million, expanding tournament management capabilities via this acquisition.
In 2023 , Riot Games joined with Microsoft to make League of Legends available via Xbox Game Pass, increasing accessibility and increasing participation rates within esports.
In 2023 , Intel announced its $100 Million Esports Investment Program designed to assist teams, organizations, and events and foster its development thereby encouraging its expansion.
In 2023, Saudi Arabia invests $380 million into esports with an aim of making their nation an international esports hub by creating an E-Sports Federation and hosting major tournaments and events.
In conclusion,
The esports industry continues to experience massive growth and shows no signs of slowing down. Driven by surging popularity, investments, sponsorship deals and merchandise sales, the global market reached $1.4 billion in revenue in 2022, up 12.6% year-over-year, and is projected to surpass $1.6 billion in 2023. With a compound annual growth rate of 12.6%, the market could exceed $2 billion by 2025 and $4.4 billion by 2032. While still dominated by Asia, North America and Europe represent major markets at over 50% revenue share.
Most revenue comes from sponsorships, media rights and advertising around popular titles like League of Legends, CS:GO and Dota 2.The future looks bright for esports, with a digitally-native demographic, increase in collegiate programs, and growing franchised leagues. As technologies emerge and advertisers recognize esports' potential, competitive gaming is poised to become a premier form of entertainment worldwide in the coming years, with projections of over $4 billion in revenue by the end of the decade.
What is the global esports market worth?

The esports market reached $1.4 billion in revenue in 2022.
How fast is the esports market growing?

Esports grew 12.6% YoY in 2022 and is projected to keep up this growth rate.
Which region dominates esports?

Asia-Pacific accounts for over 50% of global esports revenue.
What are the major revenue sources in the esports industry?

Esports revenue comes mainly from betting, media rights licensing deals, sponsorship contracts, advertising deals, game publisher fees and merchandise sales.
Have any notable developments taken place within the esports industry during 2023?

Esports Entertainment Group acquired Helix Esports in 2023; Riot Games collaborated with Microsoft on League of Legends; Intel initiated its $100 Million Esports Investment program; and Saudi Arabia invested $380 Million to advance esports across their nation.
Which esports game offers the largest prize pool for 2023?

Dota 2 currently boasts the world's highest prize pool among esports competitions with over $300 Million up for grabs in prize pools alone.
---
ABOUT AUTHOR
Kundan Goyal possesses a wealth of experience in Digital Marketing, offering valuable insights to businesses of all sizes. He actively contributes to industry-specific PR, news outlets, and forums, shaping discussions and driving forward-thinking strategies. Outside of work, HE enjoys carrom and has a deep passion for news editing and research. His strength lies in helping companies make informed, strategic decisions and predicting future trends. With his dedication and innovative approach, he is a versatile professional who brings a unique blend of skills and expertise to the ever-evolving digital landscape, enabling businesses to thrive in this dynamic environment.