Overview
Digital marketing encompasses any efforts undertaken using electronic devices or the internet for promotional activities, and includes any activities designed to connect businesses with customers where they spend most of their time: online. Here are a few key components and strategies used in digital marketing:
Search Engine Optimization (SEO): SEO refers to optimizing a website's content so as to appear higher in search engine results such as Google and increase organic (non-paid) traffic to it.
Content Marketing: Content marketing involves producing and sharing high-value, relevant material to attract and engage a target audience, such as blog posts, articles, videos, infographics or anything else of value that attracts that particular niche or audience. Examples may include blog articles or posts by influencers as well as infographics created specifically to reach this demographic.
Social Media Marketing (SMM): SMM utilizes various social media platforms (Facebook, Instagram, Twitter and LinkedIn) to market products or services, build brand recognition and engage your target market.
Email marketing: Generating leads or cultivate customer relations by sending targeted emails directly to customers and subscribers about products, news updates or building customer relations.
Pay-Per-Click (PPC) Advertising: PPC allows advertisers to pay per click of ads they display in search engines or social media platforms, requiring an advertiser to pay an upfront fee upon each click of their ad being seen by consumers.
Affiliate Marketing: This form of performance-based marketing rewards affiliates (typically individuals or other companies) for driving traffic or sales to their website through their marketing efforts.
Influencer Marketing: Partnering with influencers who enjoy significant and engaged followings online (such as on social media platforms ) to market your products or services is known as Influencer Marketing.
Online PR (Public Relations): Online reputation management strategies aimed at building and upholding positive images online of businesses or individuals are called Online Public Relations or PR for short.
Video Marketing: Sharing videos via platforms such as YouTube or social media in order to promote products or deliver messages directly to an audience is one form of video marketing.
Mobile Marketing: Tailoring marketing efforts specifically towards users on mobile devices – websites optimized for mobile use, apps for download on smartphones or other handhelds, mobile ads… etc – is all key in order to effectively market to mobile device owners.
Analytics and Data Analysis: Utilizing collected and analyzed data to measure the success of digital marketing campaigns and make intelligent decisions regarding improvements.
Chatbots and AI-Driven Marketing: Artificial intelligence combined with chatbots allows businesses to automate customer interactions, provide real-time assistance and tailor marketing efforts accordingly.
Digital marketing provides many advantages over its analog counterpart, including reaching a global audience and precise targeting, cost effectiveness and real time tracking of results. Digital channels have become essential parts of modern consumers' information gathering and entertainment needs – however keeping abreast of new technology trends and technologies for successful digital marketing strategies.
Editor's Choice
The global digital advertising market is projected to reach $602.25 billion in 2023.
Search Advertising is the largest segment within digital advertising, with a volume of $202.40 billion.
The United States leads in ad spending, with an estimated $232.70 billion.
On average, a user spends $45.11 on Social Media advertising.
By 2026, 69% of ad spending is expected to come from smartphones.
Programmatic advertising is predicted to account for 87% of Digital Advertising revenue in 2026.
Digital marketing is set to have a compound annual growth rate of 17.6% between 2021 and 2026.
Social Media ad spending is forecasted to exceed $230 billion in 2023.
Google dominates the global search market, holding a 92% share.
Both Facebook and Google Ads offer the highest return on investment (ROI) for digital paid advertising.
Email marketing remains a significant revenue generator, reaching approximately $8.49 billion in 2023.
Smartphones currently account for 55% of internet traffic and are projected to drive 69% of ad spending by 2026, with 87% attributed to programmatic advertising.
Facts on Digital Marketing Statistics:
49% of businesses recognize organic search as providing the greatest marketing return on investment.
20% of global companies consider lead generation an essential aspect of their marketing channels' success.
Content marketing generates three times more leads and reduces costs by 62% compared to traditional marketing.
70% of Internet users believe content marketing helps them develop a greater understanding of products.
Mobile usage for digital browsing now accounts for 58.57%, surpassing desktop/laptop usage which stands at 39.41%.
58% of marketers report meeting their digital marketing goals.
36% of customers rely on the internet to research product details and features.
Influencer marketing is projected to reach $21.1 billion by the end of 2023.
Facebook currently attracts 1.98 billion daily active users and 3 million businesses use it as part of their marketing strategies.
Instagram accounts drive 7.51% of website referral traffic through social media channels.
(Source: Enterpriseappstoday)
General Digital Marketing Trends:
By 2026, it is expected to reach $807 billion.
2023 estimates show desktop ad spending at 39% while smartphone spending accounts for 61% of ad expenditures.
By 2026, desktop's market share should decrease to 31% while mobile will surpass it at 69%.
Programmatic ads represent 84% of digital ad spending while non-programmatic represent only 16%.
49% of marketers believe organic search can deliver the greatest return on investment (ROI).
20% of businesses measure digital marketing success based on how many leads it generated.
72% of marketing budgets are dedicated to digital promotion.
Google processes over 8.5 billion searches daily.
Google holds 92% market share worldwide for global search queries.
Job demand in marketing is expected to increase by 10% by 2026.
Responding to customer reviews could increase spending by 50%.
More than 90% of customers read reviews online before making a purchase decision.
(Source: demandsage)
Email Marketing:
Email marketing can achieve an impressive ROI of $36 for every $1 spent.
In 2023, 4.37 billion people send a total of 347.3 billion emails daily.
There will be 4.73 billion email users by 2026.
Email marketing generates $8.49 billion in revenue.
The best day for email open rates is Monday, while Tuesday has the highest click-through rates.
82% of global digital marketers use email marketing, with 65% utilizing automated emails.
Emails with emojis in their subject lines have a 56% higher conversion rate.
E-commerce Marketing:
E-commerce is valued at $4.9 billion, partly driven by the COVID-19 pandemic.
27% of the world's population (2.14 billion people) shops online.
69% of e-commerce traffic comes from organic search, primarily Google.
60% of Millennials visit Amazon before making an online purchase.
The average e-commerce website has a conversion rate between 1.81% and 3.71%.
Product reviews from friends and family are trusted 80% of the time.
Shopify leads with 5.6 million out of 24 million e-commerce websites globally.
SEO (Search Engine Optimization)
(Source: Enterpriseappstoday)
2023's value of SEO industry will surpass $50 billion.
Organic traffic accounts for 53% of total website visits.
Brands that maintain an official blog experience 55% more traffic.
75% of users do not go beyond Google's first search page for results.
Half of all websites of small businesses omit an H1 tag.
Semrush is the most-utilized SEO tool.
Local SEO:
Local SEO can play an integral part in driving visitors directly to a business within 24 hours after searching locally online.
36% of local searches lead to purchases.
Local searches account for 22.66% of website traffic.
82% of consumers read online reviews for local businesses before making decisions about which to visit.
Google Maps is used by 93% of consumers searching for businesses.
Content Marketing:
Organic search and referral traffic deliver the greatest marketing return on investment (ROI).
Successful content marketers typically dedicate over 10 percent of their budget towards producing this form of media.
Understanding your audience is paramount for content marketing success.
Videos are the go-to content strategy for 45% of marketers.
50 per cent of internet users consider website design when forming opinions of businesses online.
PPC (Pay-Per-Click) Advertising:
Companies are expected to spend $190.5 billion in search advertising by 2024.
PPC provides double the visitors of SEO.
Over half of ad clicks occur via mobile devices.
Google Display Network is the unrivaled pay-per-click (PPC) provider.
High-intent searches account for 65-75% of click-through rates to ads.
Social Media Marketing:
Social media marketing accounts for an estimated annual value of more than $160 billion worldwide.
Over 4.26 billion people actively engage with social media.
Businesses typically dedicate 15% of their marketing budgets to social media efforts.
Facebook is the top social platform with 3.03 billion monthly active users, dominating in popularity across every demographic category.
Instagram now counts 2.35 billion monthly active users.
TikTok has become the sixth most-popular platform, boasting more than one billion active users worldwide.
Snapchat currently counts 383 million daily active users.
YouTube currently attracts an astounding 2.7 billion monthly users.
list of Top Social media as of 2023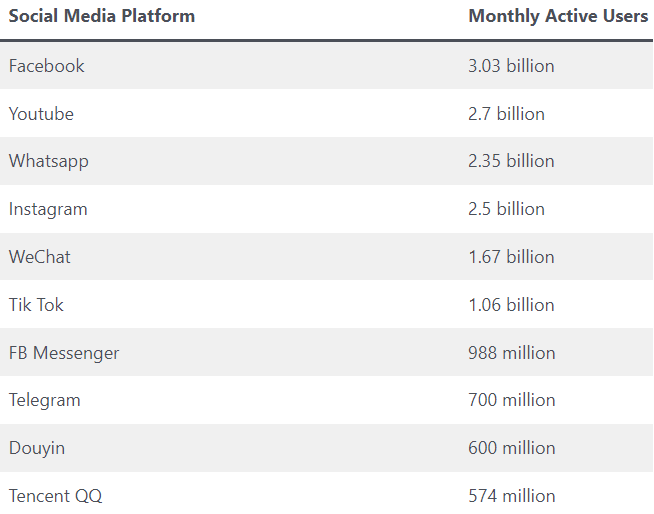 (Source: demandsage)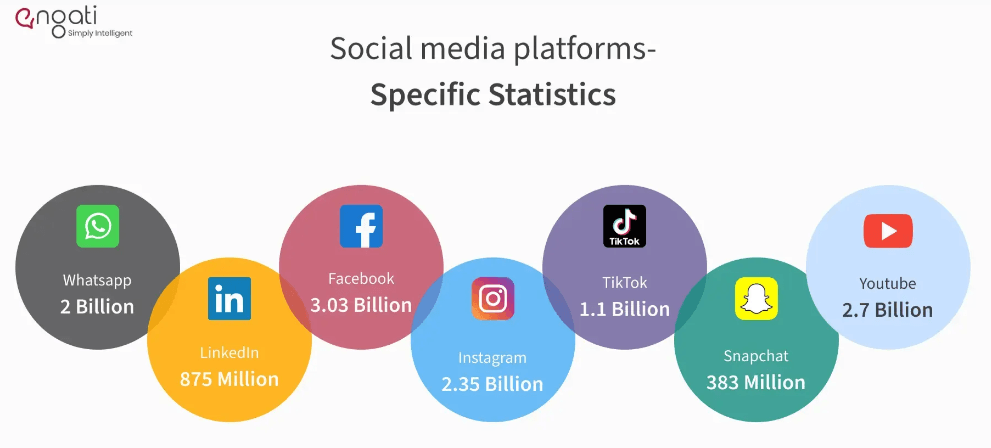 (Source: Engati)
Statistics on Social Media 
WhatsApp Statistics:
Over 2 billion monthly active users.
50% of small businesses using WhatsApp report increased customer engagement.
Around 25 million businesses actively utilize What3sApp every month.
WhatsApp users worldwide send roughly 100 billion messages daily.
WhatsApp boasts an open rate that is 70 times greater than email's.
69% of active WhatsApp users claim it as their main communication tool.
WhatsApp marketing boasts a 70% higher response rate than SMS marketing.
WhatsApp marketing campaigns may bring up to $11 billion in business savings.
LinkedIn Statistics
with over 875 Million members worldwide.
Available in 26 languages.
Revenue increased 21% year-on-year during Q1 2023.
LinkedIn users tend to identify themselves as male, with 57.2% belonging to this demographic and 42.88 identifying themselves as women.
Over 77% of LinkedIn's members come from countries other than the US.
LinkedIn members span 200 nations and regions globally.
Nearly 60% of LinkedIn's members fall between 25 and 34 years of age.
LinkedIn Marketing Solutions reached a five billion dollar sales milestone in July 2022.
Facebook Statistics
At present, Facebook boasts of 3.03 billion monthly active users and 2.06 billion daily active users.
Facebook currently accounts for 61% of social media users worldwide.
India ranks highest for Facebook user usage with 416.6 million people using it regularly.
South Asia currently accounts for 456.8+ Million Facebook Users
Facebook users make up 56.8 % male and 43.2% female users.
Facebook ads reach 2.14 billion people every month.
27% of global populations regularly witness Facebook ads.
Facebook ads reach an average age audience of 31 years old.
People aged 25-34 make up most of Facebook's audience – over 705 Million users make up this demographic alone!
Over 98% of Facebook's audience logs in via mobile phones.
Instagram Statistics:
In total, Instagram currently boasts 2.35 billion monthly active users and 500+ daily active users.
Instagram's audience consists of 50.7% males and 49.3% females.
Every month, over 2 billion users interact with Instagram's story feature.
Instagram is one of the four most-utilized social media platforms with two billion monthly active users, taking fourth place only behind Twitter, Facebook, and Snapchat.
An estimate suggests that approximately 95 Million (9.5%) Bot accounts currently reside on Instagram.
India boasts the world's highest Instagram user population – 326.6 Million!
An average user spends 30 minutes browsing Instagram every week.
Cristiano Ronaldo holds an incredible 604.55 million followers on Instagram.
TikTok Statistics:
TikTok has become one of the world's sixth-most-popular social networks with more than one billion monthly active users worldwide.
TikTok users comprise 57% women and 43% males.
TikTok is projected to have amassed 1.5 billion monthly active users by the beginning of 2023, as per current projections.
20.83% of internet users globally access TikTok.
Over 1 billion videos are watched daily on this platform.
TikTok ads reach can extend up to 885 Million viewers!
Snapchat Statistics:
With 383 Million Daily Active Users (DAUs), Snapchat currently enjoys unparalleled global market penetration.
This platform boasts 100 million daily active users in North America and 92 million in Europe.
India holds the world's highest usage for Snapchat with 200 Million registered users.
Snapchat primarily targets 18-24 age group when advertising to their userbase.
People exchange over 5 billion snaps daily on this platform.
Snap's user base consists of 51.8% females and 47.4% males.
Snapchat app users typically open it over 30 times daily.
Snapchat generated revenue of approximately $4.6 billion during 2022.
YouTube Statistics
As of 2023, there were over 2.7 billion monthly active YouTube users worldwide.
YouTube is the largest video-sharing platform and second most-popular social network worldwide.
52% of internet users globally visit YouTube at least once every month.
Over 122 Million Users Visit YouTube Daily via Its Site and App
India boasts the most YouTube users – 467 Million!
53.9% of YouTube's audience is made up of men 46.1% comprises female viewers.
Everyday, people watch 1 billion hours of videos on YouTube.
Most YouTube viewers fall within the age range of 25-34.
YouTube is quickly becoming the platform of choice among influencers, second only to Instagram in popularity.
(Source: Engati)
Digital Vs Traditional Marketing Statistics in 2023
Digital Marketing
Global Digital Advertising Market Set to Reach $786.2B By 2026.
Digital marketing creates 50% more interactions between customers and brands versus traditional methods of promotion.
51% of customers report they will stop following a brand on social media if its posts annoy or provoke them in any way.
81% of marketers believe video content has an indirect and beneficial influence on sales.
Conversion rates among online shoppers were roughly 2.3% in mid 2022, down from 2.8% at the end of 2021.
Traditional Marketing
Traditional advertising spending is projected to rise 0.55% within 12 months.
In 2020, North American TV advertising spending totalled approximately b, down from approximately $69 billion spent the prior year.
Traditional marketing results in 50% fewer interactions between customer and company than digital.
Digital marketing provides an efficient and cost-effective means of reaching and engaging customers than traditional methods, enabling you to target audiences more precisely, measure results more precisely, and make adjustments more swiftly to campaigns.
Here are a few additional statistics which illustrate the significance of digital marketing:
78% of marketers consider content marketing to be their most successful strategy for reaching target customers.
Over 80% of B2B marketers leverage social media as a lead generator.
67% of marketers consider email marketing their most successful form of promotion.
Lead Generation Statistics:
Digital lead generation market in the US was estimated at an impressive $3.2 billion by 2023.
53% of marketers devote at least 50% of their budget towards lead generation activities.
Automation allows marketers to increase leads by 451%.
61% of marketers consider lead generation their greatest challenge.
58% of marketers anticipate an increase in their lead generation budget over time.
(Source: Enterpriseappstoday)
Future of Digital Marketing in 2023 and Beyond
Mobile-Centric Marketing: Research indicates that 69% of ad spend will come from smartphone ads by 2017. Optimizing digital campaigns specifically tailored for mobile users is crucial as 90% of these searchers don't typically search online looking to buy something immediately.
Content Marketing Growth: Over 50% of digital marketers plan on increasing their budget for content marketing by 2023, reflecting its continued significance in marketing strategies.
Augmented Reality (AR): AR has quickly emerged as an innovative trend in marketing. Industry estimates predict the augmented reality market could reach $461.25 billion by 2030 with 61% of customers preferring companies offering AR experiences over those not providing these.
Voice Search: With over 50% of baby boomers using voice-enabled assistants for on-the-go information access, marketers need to adapt their strategies in order to optimize for voice search optimization.
Artificial Intelligence (AI): AI has quickly become one of the top trends in digital marketing. AI allows for better personalization, automation and data analysis within marketing efforts.
Influencer Marketing: Influencer marketing with micro-influencers remains an effective approach to reaching target audiences.
Video Content Dominance: Video content has quickly taken hold across social media, especially LinkedIn, as a powerful and engaging way of conveying messages while keeping an audience's interest.
(Source: demandsage)
Recent Development
In 2023 HubSpot introduces AI-powered tools, including an AI Content Writer and Blog Writer.
In 2022 DALL-E is making waves due to its ability to generate images based on text prompts.
In 2022 Google Launches New Analytics Platform Focusing On Customer Journeys And Data-Driven Decision-Making
In 2021 marks TikTok as a popular global social media platform with 1 billion-plus active users worldwide.
Conclusion
Digital marketing continues to advance quickly in 2023 and beyond, influencing numerous trends and statistics that shape its landscape. Mobile marketing is becoming an integral component of advertising spending and requires tailored campaigns targeted specifically at mobile audiences. Content marketing remains one of the strongest forms of promotional activity and marketers continue to increase budget allocations to explore its full potential. Augmented Reality (AR) and Voice Search have quickly emerged as innovative tools to engage consumers while Artificial Intelligence (AI) continues its revolutionary path for personalization and data analysis. Influencer marketing with micro-influencers remains an effective approach to reaching target audiences, while video content (now prevalent across platforms) presents a dynamic and engaging medium through which to convey messages. Digital marketing's flexibility, precision, and cost effectiveness make it a key player in today's marketing scene, prompting businesses to adapt these trends in order to remain competitive while remaining relevant with today's tech savvy consumer base.
---
ABOUT AUTHOR
Kundan Goyal possesses a wealth of experience in Digital Marketing, offering valuable insights to businesses of all sizes. He actively contributes to industry-specific PR, news outlets, and forums, shaping discussions and driving forward-thinking strategies. Outside of work, HE enjoys carrom and has a deep passion for news editing and research. His strength lies in helping companies make informed, strategic decisions and predicting future trends. With his dedication and innovative approach, he is a versatile professional who brings a unique blend of skills and expertise to the ever-evolving digital landscape, enabling businesses to thrive in this dynamic environment.